Sources: Senate Immigration Deal includes Tougher Border Security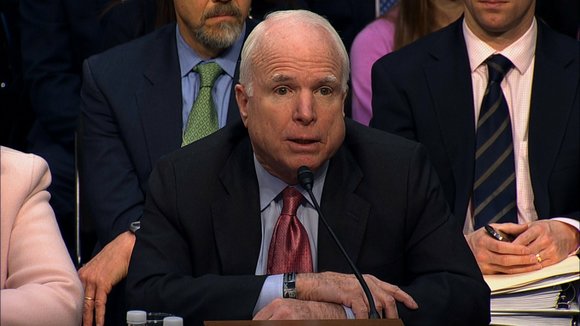 By Dana Bash and Ted Barrett
CNN
A bipartisan group of U.S. senators trying to pass an immigration reform bill intends to ratchet up pressure on divided Republicans on Thursday by agreeing to double the size of the current 21,000-agent border patrol and ensure 700 miles of fence.
Sources told CNN some of the details of the negotiated changes to the giant bill bein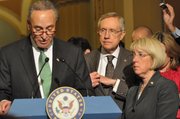 g debated in the Senate. However, a Senate aide familiar with the talks cautioned there could be a last-minute change before the agreement gets announced, which was expected as soon as Thursday.
A key Repubilcan, conservative Sen. Marco Rubio of Florida, announced the planned amendment to the immigration deal, telling Fox News on Thursday that it would provide "a dramatic expansion in improvement in border security" that he hoped would enhance the bill's chances of passing.
"It's a dramatic improvement in border security. It's a major surge in border enforcement," said Rubio, a member of the Gang of Eight, a group of bipartisan senators who put together the immigration legislation.
The deal reached by the Gang of Eight and others sought to improve the chances for the immigration plan to win 70 or more votes in the Senate.
Supporters hope such a solid majority, including more than a dozen Republican senators, would give the measure much-needed momentum in the GOP-controlled House.
Earlier this week, House Speaker John Boehner rejected having the GOP-controlled chamber vote on an immigration measure if it needed Democratic votes to pass.
"I don't see any way of bringing an immigration bill to the floor that doesn't have majority support of Republicans," Boehner, R-Ohio, told reporters.
Conservative Republicans oppose the plan because it provides legal status and a pathway to citizenship for millions of immigrants living illegally in the United States.
They call such a move an amnesty for lawbreakers, and they fear the influx of likely Democratic voters in future elections. In addition, they reject the measure as a "big government" approach that will increase pressure on entitlement programs such as Medicare and Medicaid.
More moderate GOP leaders and legislators believe Republicans risk worse electoral damage if the party is blamed for blocking immigration reform, which is a top priority of President Barack Obama.
In last year's election, Obama won a strong majority of the Hispanic vote in defeating GOP nominee Mitt Romney, and GOP strategists warn of similar results if the party is considered hostile to immigrants.
Rubio said that the alternative to immigration reform meant keeping in place a broken system that has led to problems cited by opponents of the legislation.
"Leaving what's in place right now is not an option. We have to fix this," he said.
On Wednesday, Senate debate on the immigration bill moved slowly as the floor sat lifeless in a quorum call for much of the day.
Behind the scenes, however, the bipartisan Gang of Eight senators continued their push to find compromises on several key issues in hopes of building broad support for the legislation.