Supreme Court Pushing Voting Rights Back 49 Years
Jo-Carolyn Goode | 6/25/2013, 6:33 p.m. | Updated on 6/25/2013, 6:33 p.m.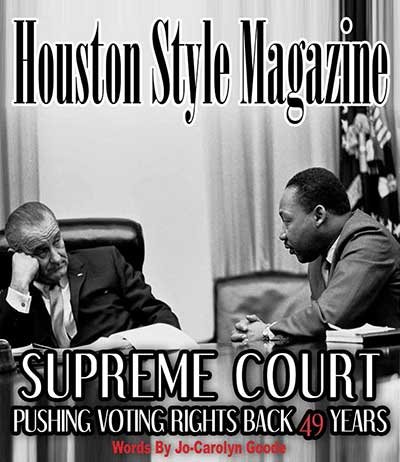 "It's not the same south that we had in 1964," said Frank C. Ellis Jr., the attorney for plaintiff Shelby County that is behind the latest challenge to the Voting Rights Act of 1965. Noting such strides as the three-time election of a black man as mayor of one of the cities in the county, the election of a black school board member, and the election of a black man to city councilman over popular white opponents in the 90% white population of Shelby County. Yes, Mr. Ellis you are correct in saying that it is not the same south as it was 49 years ago and those are some historic accomplishments for your county, but the mere fact that you are still counting the number of blacks in elected positions shows you there is still a need for all provisions of the Voting Rights Act of 1965.
Overall, Ellis is in favor of the Voting Rights Act of 1965 but what he questions is section 5 of the act that mainly affects nine southern states who had previous history of being discriminatory towards minorities. Section 5 helps to prevent discrimination in voting by those nine states (including Texas) by requiring that state and local governments get prior approval from the federal government before making any changes to their voting laws or procedures, known as preclearance. So something as simply as moving a voting place across the street would need governmental approval. Ellis finds this to be a problem because he says states spend billions of dollars getting prior approval and oftentimes can't get approval for changes in time before election and elections have to be canceled. The bigger problem is that this section has already been challenged four times and each time it has been renewed back into law, except this time. On Tuesday, June 25, 2013, the Supreme Court struck down section 5 of the act and the formula for requiring preclearance as unconstitutional.
Why is this so important? It sets back the civil rights movement 49 years. It endangers minority voters in states with governments that have a history of unfair voting practices. In the past, blacks were subjected to things like literacy tests or asked to figure out how many jellybeans were in a jar and if they failed these "tests" they were denied the opportunity to vote.
How does this affect Texas? Remember the controversial Voter ID law that would require voters to show a state-issued photo ID before casting a ballot? Don't forget about the uproar over redistricting maps. With the decision of the Supreme Court, Texas Attorney General Greg Abbott has said "the state's voter ID law will take effect immediately (and) redistricting maps passed by the legislature may also take effect without approval from the federal government." The Supreme Court has now open the door for these nine Southern states to change voting laws in any way that they want without government approval.
Congress still has to weigh in on the Supreme Court's 5-4 decision to revise the law. Congresswoman Sheila Jackson Lee has already voiced her opinion on the matter. "The present Congress will see nothing but obstruction, delay and the introduction of voter suppression laws. This decision is far from reality, lacking in empathy and has taken the civil rights of populations that depended on federal law and shredded it!" Congressman Al Green added, "The Supreme Court's majority opinion rightly recognized the positive progress made on voting rights due to the Voting Rights Act, especially the importance of the preclearance of laws from jurisdictions with a history of discrimination. However, it has struck down the provision key to preserving and achieving more positive progress in extending equal voting rights to all citizens, imperiling the progress that it praises so highly."
The Supreme Court has made a move to push America backwards instead of advancing us to a more progressive future. Time will tell how Congress' decision will influence voting rights in America.