Houston Jazz Greats Conrad Johnson and Bubbha Thomas Provide Area Youth with an Alternative Summer Program Through Summer Jazz Workshops
Participants are given the opportunity to perform at the Houston International Jazz Festival and the Mayor's Scholarship Jazz Brunch
Style Magazine Newswire | 6/26/2013, 8:12 p.m. | Updated on 6/26/2013, 8:12 p.m.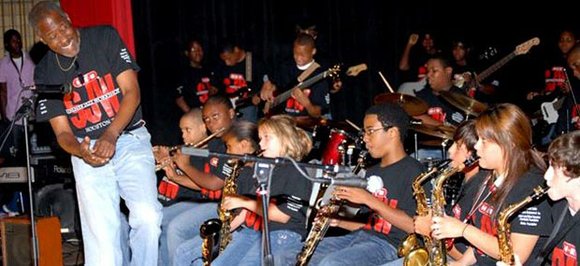 Who: The Summer Jazz Workshops were founded in 1972 by Houston Jazz greats Conrad Johnson and Bubbha Thomas. This week, the workshop will feature more than 75  students and will be led by Larry Ridley, Ph.D., the artist in residence. Notable attendees include include Brandon Munoz, the inspiring trumpeter who marches within the Willowridge High School band, despite blindness. Other participants include Raven Moran, niece of Jazz Pianist Jason Moran, and Lawrence Turner, son of Jazz Saxophonist Kyle Turner.
What: The H-E-B "Tournament of Champions" Summer Jazz Workshop is a five-week intensive, youth-oriented program that focuses on the fundamentals of music and its associated business aspects. This program has trained more than 10,000 student musicians throughout its history of more than four decades. Many former students have gone on to become successful Jazz recording artists, band and music instructors, doctors, lawyers and productive members of their communities.
When: Thursday, June 27, 2013, from 12:30 p.m. to 4:30 p.m.
Where: Texas Southern University 3100 Cleburne Houston, TX, 77004 (in the campus' Steward Rollins Music Center)
Why: The choices for youth during the summer can be quite grim; distractions including illicit activity often plague teenagers during the summer months when school is not in session. The Workshop provides a healthy and long-lasting opportunity to young people who want to improve their lives, learn and have fun in a structured, stimulating environment.