Outshine the Fireworks this July 4th with Sparkling Sweets
Family Features | 6/26/2013, 8:39 p.m. | Updated on 6/26/2013, 8:39 p.m.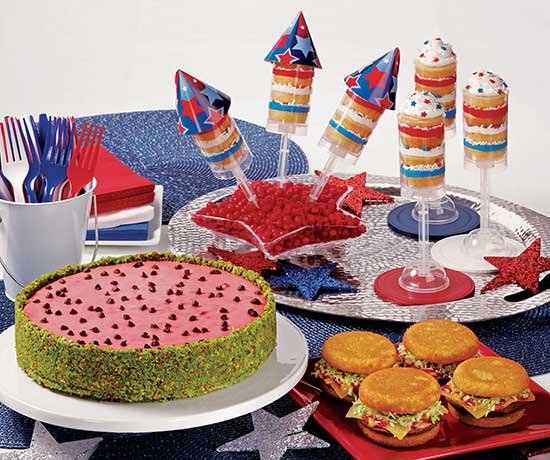 Fireworks don't have to be the only party element that makes guests ooh and ah during July 4th festivities. With colorful sweets that sparkle and a themed tablescape exploding with red, white and blue, your party is sure to be the best on the block.
"Adding patriotic flair to your Independence Day celebration is easy with the right recipes and decorating accents," said Nancy Siler, vice president of consumer affairs at Wilton. "Put your personal John Hancock on the party by turning traditional summertime foods into amazing sweet treats."
Try these dessert ideas from the Wilton test kitchen for a celebration that ends with a bang:
—Burgers with a Sweet Bite: Traditional burgers are a staple for summer parties; switch things up by building burgers with unexpected ingredients. Start with whoopie pies for the buns, add a brownie "patty," roll yellow fruit candies into thin layers for cheese, and top it off with red and yellow Sparkle Gel for ketchup and mustard.
—Playful Twist on Summer Fruit: Make mouths water by serving up slices of delicious watermelon ... cheesecake! Strawberry cheesecake dotted with mini chocolate chips imitates the center of the fruit, and a pistachio and coconut crumble crust mimics the watermelon rind.
For more celebration ideas, visit www.wilton.com.
Cool Watermelon Cheesecake
Makes about 12 servings
Crust:
1-1/4 cups (16 ounces) roasted salted pistachios
2 cups sweetened flaked coconut
1/4 cup granulated sugar
4 tablespoons (1/2 stick) butter, melted
Leaf green icing color
Filling:
3 packages (8 ounces each) cream cheese, softened
2/3 cup granulated sugar
1 teaspoon imitation clear vanilla
1 cup heavy whipping cream
1 package (16 ounces) frozen whole strawberries, thawed, pureed and strained (about
1-1/2 cups)
1 envelope (1/4 ounce)
unflavored gelatin No-taste red icing color
1/2 cup mini chocolate chips, divided
In food processor, pulse pistachios until coarsely ground. Add coconut, sugar, butter and icing color; pulse until well combined. Press into bottom and 3/4 up side of 9-inch springform pan. Refrigerate while making filling.
In large bowl, beat cream cheese, sugar and vanilla until light and creamy. Add heavy cream and beat until combined.
In small saucepan, bring strawberry juice just to boiling, stirring constantly. Remove from heat. Sprinkle gelatin evenly over top and whisk vigorously to dissolve completely, about 3 minutes. Pour into cream cheese mixture. Add icing color and beat until well combined. Beat in 1/3 cup mini chocolate chips. Pour into chilled crust. Sprinkle top with remaining chocolate chips. Refrigerate until set, about 3 hours.