Senate Takes Another Step Toward Passing Immigration Reform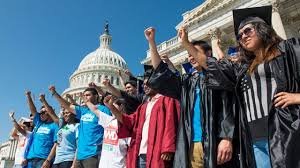 If eventually passed into law and signed by President Barack Obama, the bill would be the first major immigration reform since 1986, during the second Reagan administration.
Grassley conceded he voted for the 1986 measure, which also called for increased border security, and called his support then a mistake he regrets.
The 2013 version was drafted by a Senate "Gang of Eight" composed of four Democrats and four Republicans motivated by political and policy needs.
Both parties concede the nation's immigration system is broken, and some Republicans believe that GOP refusal to work with Democrats on the matter would mean a repeat of the 2012 presidential election in which Obama won a strong majority of the Hispanic vote.
However, other Republicans fear that providing a path to legal status for millions of undocumented immigrants would bolster support for Democrats from the new voters.
Florida Sen. Marco Rubio, the most prominent Republican in the "Gang of Eight," told CNN's Dana Bash last week that he understands "why conservatives are upset."
"They've seen all these promises in the past that haven't been delivered," Rubio said. But the status quo on immigration "is hurting America," he added. "And if nothing passes, then this disaster that we have now, that's what's going to stay in place."