On the Heels of the Supreme Court's Decision to Gut the Voting Rights Act, Lawyers' Committee Urges Presidential Election Commission to Protect Voters' Rights at the Ballot Box – Voting Rights Hearing
SCOTUS Decision on VRA Makes Protecting Voting Rights More Critical Than Ever Before Questions regarding the Supreme Court Decision – Call 1-866-OUR-VOTE
Style Magazine Newswire | 6/28/2013, 11:58 a.m. | Updated on 6/28/2013, 11:58 a.m.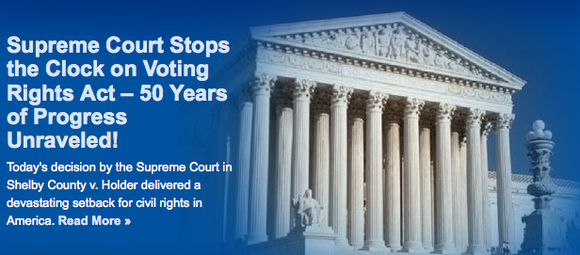 On the heels of the Supreme Court's Shelby County v. Holder decision Tuesday that dismantled a key component of the Voting Rights Act (VRA), the Presidential Commission on Election Administration (PCEA) will hold a scheduled hearing this Friday, June 28, at the University of Miami in Florida – one of the focal points of election problems during the 2012 election.
Tuesday's Supreme Court decision on the VRA effectively immobilized Section 5, which had prevented jurisdictions with a history of discrimination from implementing voting changes until they could demonstrate the change was not discriminatory. The Court found the formula used to determine which jurisdictions were subject to Section 5 to be unconstitutional.
The Shelby County decision further underscores the importance of the PCEA to do everything in its power to ensure that all eligible voters, in every state and jurisdiction in the nation, have the opportunity to cast their ballots free of discrimination and intimidation. In an effort to supplement the PCEA hearings, the Lawyers' Committee for Civil Rights Under Law has released its report to the Presidential Commission on Election Administration outlining recommendations for improving the electoral experience of voters.
"The Shelby County v. Holder decision moved our country backwards and creates more urgency in developing an efficient, modern and fair election system," said Jon Greenbaum, Chief Counsel for the Lawyers' Committee. "The Lawyers' Committee is extremely appreciative that the Commission recognizes our work in protecting the vote in America, and we are hopeful that the Commission's sustained leadership and efforts will lead to positive, meaningful and true reform that results in a substantial reduction in the amount and frequency of problems that have plagued American voters for years."
As the leader of Election Protection – the nation's largest nonpartisan voter protection coalition – the Lawyers' Committee has developed significant knowledge and understanding of election administration in the United States. On behalf of Election Protection, the Lawyers' Committee suggests that anyone who has questions about the Supreme Court's changes to the Voting Rights Act, or wants to report voting law changes or voting problems call the Election Protection hotline at 1-866-OUR-VOTE.
The Lawyers' Committee's recommendations cover a broad spectrum of issues ranging from polling place management and operation to upgrading voter registration and expanding early voting opportunities.
Major recommendations include:
The election process should be upgraded and modernized. Capitalizing on technology is monumentally important to improving the voting experience. It is unjustifiable that American elections rely on a paper-based registration process, antiquated voting machines, and inefficient database management. Voter registration continues to be the single largest voting problem experienced by voters. The confusion that results from inaccurate voter rolls places stress on polling place operations, is a time drain on both poll workers and voters, and too often leads to disenfranchisement of eligible voters. Technology can transform voter registration in the United States and would result in clear improvements over the current process. Voter registration would be more accurate and reliable, which would significantly reduce lines on Election Day. Election officials would benefit from a streamlined process that utilizes technology to improve efficiencies, capitalize on scarce resources, and make better use of staff time.
Administration planning should be thoughtful and comprehensive. Written plans are a simple, logical solution to the complexities of election administration and promote efficient administration to improve the voter experience. A central written plan that details the major components of running an election is key to promoting efficient, organized, and professionalized elections. Written election administration plans are useful because they serve as an internal planning document for administrators and a central catalogue of all election administration planning. Local election jurisdictions can develop, update, and refine their plans between election cycles based on successes and problems identified in a prior election.
Racial inequities that result from inadequate election planning should be examined. A growing body of data suggests that the problems with wait times are not equally shared among the electorate. Based on our experience of Election Protection, racial minorities are hit hardest by long lines and extended wait times and recent studies substantiate this experience. These concerns must be taken into account when planning for elections and allocating resources.
Polling places should be effectively managed. In 2012, Election Protection received calls around the nation from voters dealing with problems that were directly related to inefficient polling place operations and management. Disorganized multi-precinct polling locations in particular created chaotic, claustrophobic conditions which confused voters, added markedly to wait times, and caused many voters to vote provisional ballots because they were in the wrong precinct line.
Poll workers should receive continual, reinforced training in order to be comfortable with the laws, rules and election process. Election Protection received numerous calls stemming from poll worker errors including: requiring the wrong identification, preventing assistance, and overusing provisional ballots. Jurisdictions must expand recruitment strategies to hire poll workers who are comfortable with new technologies and who are trusted with the community.
Election administration should be sufficiently funded. Jurisdictions are faced with limited budgets and administrators have to make tough decisions on how to spend the few funds they have. They are often unable to purchase new voting machines, hire enough staff and poll workers, conduct sufficient trainings and adequately allocate resources. Running elections is a core function of government and requires sufficient funding.
For more information, please contact Stacie Royster at (202) 662-8317 or sroyster@lawyerscommittee.org
The Lawyers' Committee for Civil Rights Under Law (Lawyers' Committee), a nonpartisan, nonprofit organization, was formed in 1963 at the request of President John F. Kennedy to involve the private bar in providing legal services to address racial discrimination. We are celebrating our 50th anniversary in 2013 as we continue our quest of "Moving America Toward Justice." The principal mission of the Lawyers' Committee is to secure, through the rule of law, equal justice under law, particularly in the areas of fair housing and fair lending; community development; employment; voting; education and environmental justice. For more information about the Lawyers' Committee, visit www.lawyerscommittee.org