Oil Cleansing…My New Favorite Thing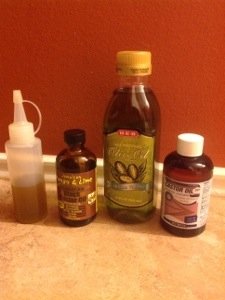 Earlier this week I had a doctor's appointment, all the nurses and even my own doctor couldn't believe my age. The first nurse did a triple take. The doctor said I didn't look an age over 25. I responded with, "Oh, thanks. It must be a combination of great genes and the new face wash."
I was so serious about the face wash. A couple of months ago, I read a post about oil cleansing from one of my bible study girlfriends and jumped right in. I'm a fan of all things natural and homemade (especially cookies). Now, I know you're thinking-I have oily skin why would I put more oil on my skin (at least that's what my husband asked). Well, sit on the fence if you want but if you find the right combo, oil cleansing is the bee's knees. It's like getting a spa treatment every night and there is no need for additional moisturizers or makeup removal solutions. I have breathed, lived, and died by olive oil for years. I even use the face wash combo below as a hot oil treatment for my hair.
SUPPLIES NEEDED:
Squeeze bottle (I found one for less than $2 at Hobby Lobby)
Castor Oil (natural astringent)
Extra Virgin Olive Oil (EVOO), Sunflower, or Other Oil
DIRECTIONS:
Mix oils based on your skin type in the squeeze bottle
Oily Skin-Three Parts Castor Oil and One Part EVOO
Normal Skin-One Part Castor Oil and One Part EVOO
Dry Skin-One Part Castor Oil and Three Parts EVOO
Pour about a quarter-sized oil mixture into your hand and slowly massage the oil onto your face. Massage for about a minute. There is no need for makeup removal solutions because the oil naturally removes makeup.
Wet a clean washcloth with hot water and wring out any excess water. Place the towel over your face until cool (about 1-2 minutes).
Use the washcloth to remove any excess oil. Your skin will feel softer IMMEDIATELY!
SIDE NOTE:
You most likely only need to oil cleanse once a day. I only cleanse in the evenings. In the morning, I rinse my face with water. You will also need to experiment with the oil mixtures to find your ratio. There will be an adjustment period for about 2 weeks. Be patient. You can research the benefits and qualities of all the different oils and combos easily online.
If you decide to try oil cleansing please come back and share your experience!
Read more of Dee Dee's helpful hints on her blog http://momwifeandeverythingelse.com