EPA Regional Administrator Visits San Jacinto River Superfund Site
Style Magazine Newswire | 3/1/2013, 11:51 a.m. | Updated on 3/1/2013, 11:51 a.m.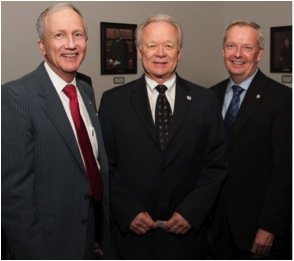 Harris County Attorney Vince Ryan (left) welcomes the new Regional Administrator for the Environmental Protection Agency Ron Curry (center) and EPA Director of Office of External Affairs David Gray during a visit at the County Attorney's Office on February 26. Earlier in the day, Ryan joined Curry in an inspection of the San Jacinto River Waste Pits Superfund Site, the largest source of the major pollutant dioxin in the San Jacinto River. Ryan and Curry discussed the importance of removing dioxin from the river which is currently under a fish consumption ban because of the pollutant. In addition, the site is the subject of a pollution suit filed by Harris County seeking $1 billion in civil penalties from the companies that polluted the River. In 2010, the EPA ordered the polluters to take temporary measures to halt the spread of the pollution and the EPA is expected to have a final report on the clean-up completed later this year. Curry pledged to continue working with the County on the clean-up.