Go Red by 40'z Rock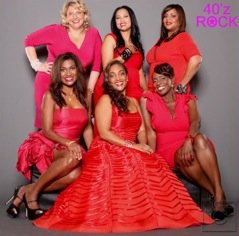 "40'z Rock is a movement designed to encourage all women in their forties to embrace and celebrate their age, life, health, and community." On Sunday February 24th 2013 these fabulous women came together to celebrate The American Heart Association's GO RED for Women - paying homage to the month of February as being Heart Disease Awareness month; by hosting the first annual Red and Fabulous Tea Party. Convened at the posh ALoft Hotel, 5415 Westheimer Rd., these renaissance women came together in wholesome chicness to display a wealth of knowledge concerning heart health in various areas.

The point speaker was world class dentist Letitia L. Plummer of Maxwello Dental . Some may wonder; what expertise does a dentist have in heart health? Dr. Plummer let everyone know, plenty. Periodontal disease (also known as gingivitis or gum disease) increases bacteria in the mouth. Bacteria will travel from the mouth to the heart; often causing inflammation and other serious heart conditions. Dr. Plummer says that 50% of all adults have gingivitis, with 43% being African American. One of the biggest signs for gum disease is bleeding gums. Dr. Plummer states, "It is not normal on any level for gums to bleed when brushing." It's important that patients seek dentists who are proactive in preventing periodontal disease. Insurance does cover it. Without insurance treatment for gingivitis can run average $600. According to the Mayo clinic, good hygiene is the number one preventive measure against periodontal disease. It's important to brush at least 3 times a day. Additionally, patients must watch out for foods with high acidic levels: low sugar foods, sodas, starches.

For 40'z Rock, external heart health is just as important as internal hearth health. Kim Roxie, founder of Lamik Beauty gave a panache and practical demonstration of her platform, purpose, and pleasure. Kim Roxie believes that if a woman looks good, then more than likely she is going to feel good. Ms. Roxie declares that all women should move in the authority of their purpose, keeping themselves looking good with the simplest of techniques. The brows are the foundation to the face. If a woman can keep her brows on point, then the concerns of makeup are a distant second. With Lamik's Celebrity Brow Kit, every woman can maintain a daily fresh face that's appropriate for any environment, whether it be the office, girl's night out, or Sunday brunch.
Created by Sandra Wyckoff of Houston Texas, by way Alexandra City Alabama, 40'z Rock is a platform manifested from the My Black is Beautiful 2012 campaign. Sandra Wyckoff was chosen to represent the woman of a certain age in showcasing why her black is beautiful. The idea of celebrating the remarkableness of
women, specifically the 40 year old, inspired Sandra; and within the ensuing months she gave birth to 40'z Rock. She states, "When you're 30 you've just figured out what you want to be. When you're 40, you start to live who you want to be. The beauty of 40 is not the beauty that you see; it's the beauty that you experience. 40'z Rock is a group mothers, judges, doctors…giving back to the community. That's where the
beauty comes from, giving back." And for the month of February Sandra and her fabulous group of women gave back to GO RED, to bring awareness to an issue that plagues so many women across the world.

With a beautiful spread of finger heart healthy foods and gourmet teas Houstonian women socialized under the themes of Love, Network, Education, and outright fabulousness. Some guests participated in a Red Fashion show, showcasing their beautiful red dress ensembles and telling everyone why they were 40 and fabulous. A portion of all the proceeds went to the American Heart Association, collected from the entrance registration fee and the live auction of donated items from Rouge Boutique, Lord and Lord Designs, Lamik Beauty, JewelrybyMikkai, and Scarves by Divo JB.
For more information about 40'z Rock, Like them on Facebook at www.facebook.com/40zrock.