TSU Alum Michael Strahan to Receive One of University's Highest Honors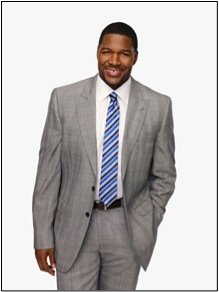 The campus of Texas Southern University is all abuzz this week after learning that the university's Board of Regents unanimously agreed to award the Honorary Doctorate of Humane Letters to one of its top alumni. Super Bowl Champion, businessman, and broadcaster Michael Strahan will be honored with the university's highest honor, the doctorate degree. Strahan will be honored at Spring Commencement Exercises at 9:30 a.m., Saturday, May 11th.
This special moment will occur at the campus Health and PE Arena. Over 10,000 are expected to be on hand for the ceremony where over 800 students will march across the stage to receive their degrees from TSU's 10 colleges and schools.
Dr. John Rudley, university president, made a special trip to New York recently to officially make the offer to Strahan. While there and visiting the set of LIVE with Kelly and Michael, Rudley witnessed in person Strahan's magnetic personality and huge presence on and off the stage. Rudley was accompanied on the trip by Eva Pickens, TSU's Associate Vice President of Communications and Community Relations.
"I never doubted for a moment that this was the right thing to do," stated Rudley. "To give the Honorary Degree to an alumnus who has given TSU more than he will ever know, just makes perfect sense to me. Just the mere mention of TSU's name in the circles where Michael speaks about his college days gives TSU immediate credibility, notoriety and substance. It means so much to those who carry the TSU degree and those who are contemplating enrolling here."
Organizers have huge plans for May 11, beginning with the conferring of the Honorary Degree by Dr. Rudley, Chairman of TSU's Board of Regents Glenn Lewis, and Provost and Vice President of Academic Affairs Dr. Sunny Ohia. Besides the degree, TSU will recognize May 11th as Michael Strahan Day in the City of Houston and will be joined by other dignitaries presenting proclamations representing the following offices and entities: The U.S. Congress, the U.S. House, the U.S. Senate, State Representatives, Houston Mayor's office, Harris County Commissioners, Texas Southern University, Westbury High School and the TSU National Alumni Association.
"When you look at a Michael Strahan, you see someone who everybody wants to know. He's still down to earth, but is truly a savvy businessman and professional," stated Pickens.
On LIVE with Kelly and Michael, he's quick, a special skill only few people inherit. As a sports commentator, he's knowledgeable about the game he once mastered on the field. He studies the game daily.
It is Michael's passion for education, personality, knowledge, business acumen, and know-how that inspired TSU's president Rudley to recommend to the Board of Regents that the university's highest honor should be bestowed upon this former student of Texas Southern. TSU Board of Regents agreed by voting unanimously.