Vote counting begins after largely peaceful election in Kenya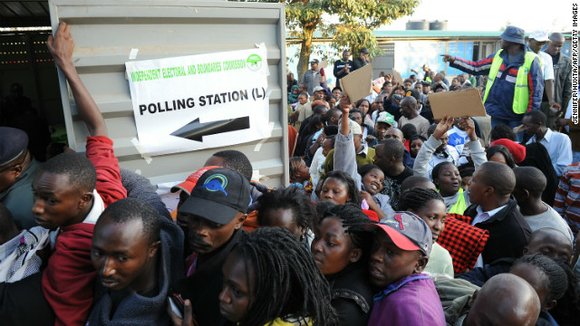 Vote counting began here Monday after largely peaceful elections in which millions of voters stood in line to choose their next president in a tightly contested general election.
The Elections Commission said some of the nation's 30,000 polling stations would remain open late to accommodate those still in line and to make up for having opened late.
"Definitely, there is going to be some hiccups here and there, but I think, when you assess the whole, then we think the work, so far, is very good," said Abdullahi Sharawi, a commisssioner of Kenya's Independent Electoral and Boundaries Commission. "I think all Kenya, it looks like they have faith in the system, in the new constitution."
Though some people waited in the sun for more than eight hours to cast their ballots, there was "no reporting at all" of intimidation, said John Stremlau, the Carter Center vice president for peace programs. The center, at the invitation of Kenyan authorities, placed 60 observers in all 47 counties.
In Nairobi, some lines stretched for more than a kilometer (0.6 miles), he said.
But the observers' initial reports were "universally complimentary to the citizens of this nation in showing their determination to have their votes counted," Stremlau said.
Those glitches that did occur appeared related to a new system of computer-based biometric identification of voters, he said. "Sometimes a couple of computers would get kind of out of whack and would slow the process down," he said.
Residents were eager to avoid a repeat of the last election, in December 2007, when the nation plunged into ethnic violence after results were disputed. Some 1,200 people were killed and 600,000 displaced.
"There have been so many steps and safeguards put into the system so far to prevent that kind of cataclysmic event that we're kind of encouraged that that is not going to happen," said Stremlau. Carter Center observers were not in the country during the 2007 vote.
Monitoring Kenya's vote -- digitally Odinga: This is Kenya's opportunity Promoting a peaceful election in Kenya Popular teen hosts express violence fear
Hours before the polls opened, a group of heavily armed men attacked a police post in the port city of Mombasa, killing at least 10 people, including two police officers, officials said.
David Kimaiyo, inspector general of Kenyan police, said a group of men approached police officers manning a post between 9 p.m. and 10 p.m. and refused to comply with orders to stop. Police fired on the men, who fled into a nearby slum, he said.
When police called for backup, about 200 men ambushed them on a road, Kimaiyo said.
Prime Minister Raila Odinga blamed the attack on the Mombasa Republican Council, a separatist group that wants Mombasa, the second-largest city in Kenya, and its surrounding coastal area to secede.
Stremlau said the violence may have been unrelated to the election.
Party agents representing the two main coalitions contesting the elections will let observers and everyone else know if they have concerns about the violence being linked to the election, Stremlau said. "They can be adjudicated by the courts, as needed," he said.