Power Up
With Delicious Protein-Rich Recipes
Family Features | 3/7/2013, 11:23 a.m. | Updated on 3/7/2013, 11:23 a.m.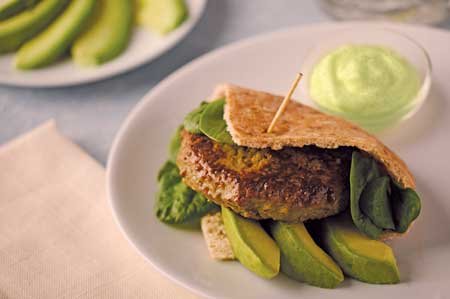 It takes a lot of energy to keep up with today's busy lifestyle. Between juggling work, family, friends and activities, people are often looking for something to help them keep going. Many are turning to nutritious, plant-based sources of protein, such as peanuts, to help provide long-lasting energy throughout the day.
"By adding peanuts it is easy to make a protein-boosting smoothie, energy-rich waffles, better-for-you burgers, and crunchy kale chips without a lot of salt," says Jennifer Iserloh, chef and certified health coach. "This Peanut Teriyaki Turkey Burger has more ingredients than you would normally expect when building your burger, but the payoff is huge. This meal is a source of vitamins E and A, folate and plenty of heart-healthy compounds that you get from superfoods like peanuts."
For more nutrition information and delicious ways to stay energized, visit www.nationalpeanutboard.org.
With 7 grams per serving, peanuts have more energy-boosting protein than any nut. This, along with their more than 30 essential vitamins and nutrients, makes peanuts a superfood.
Peanut Teriyaki Turkey Burgers
Serves 4
2 cups baby spinach
1 clove garlic, quartered
1/2 cup reduced-fat mayonnaise
Zest of 1 lemon
1 tablespoon lemon juice
1/2 cup unsalted, dry roasted peanuts
1 8-ounce container mushrooms, such as button and cremini
1/2 pound ground turkey breast meat
2 tablespoons teriyaki sauce
Cooking spray
4 large romaine lettuce leaves or 1 cup packed baby spinach leaves
1 ripe avocado, thinly sliced
4 5-inch whole wheat pitas
Place spinach and garlic in a food processor. Process until spinach is finely chopped. Add mayonnaise, lemon zest and lemon juice; blend again to smooth. Transfer to container and clean food processor bowl.
Preheat oven to 400°F.
Place peanuts in food processor and pulse until they are finely chopped. Add mushrooms and pulse again 10 to 15 times until finely chopped. Add turkey meat and teriyaki sauce, and pulse until just combined; mixture should be sticky and moist. Form into four equal patties, and place on plate or waxed paper.
Heat large skillet over medium high heat. Pull skillet off heat and coat with cooking spray.
Add burgers and place back on heat. Cook without moving for 4 minutes until a golden crust forms. Spray tops of burgers with a thin layer of cooking spray and flip. Cook four minutes more then slide skillet with burgers into oven. Bake 20 to 25 minutes until burgers are cooked through and no longer moist in the center. Set aside.
Layer one romaine lettuce leaf or 1/2 cup baby spinach leaves into each pita along with a few slices of avocado. Spoon in two tablespoons mayonnaise mixture. Slide burger in and serve immediately. Use toothpick to hold pita together, if needed.