Fans from across the globe can now get the Frontier Jazz Orchestra experience, up close and personal
Style Magazine Newswire | 3/25/2013, 1:54 p.m. | Updated on 3/25/2013, 1:54 p.m.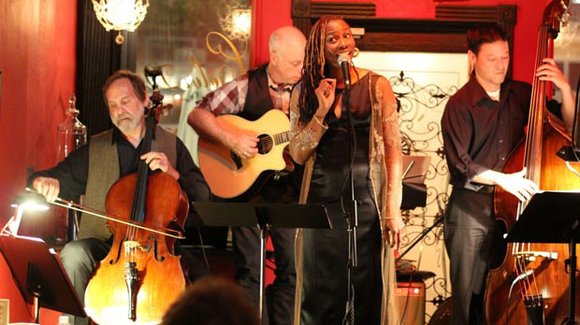 Starting this month, Jacqui Sutton with the  Frontier Jazz Orchestra will introduce a bi-weekly, online video featuring live performances of singles from her albums, Notes From the Frontier and Billie & Dolly. The videos will launch on the first and third Wednesday of each month on Sutton's YouTube channel at www.youtube.com/JazzgrassChic. This week's release is "Nature Boy," http://youtu.be/iPqRVJLzOxI a song originally composed by Eden Ahbez in 1947, but landed on the Billboard charts after being recorded by Nat King Cole in 1948. The song tells a story of a young, enchanted boy who, after a soul-searching adventure, learns that the greatest gift of all is to love and be loved in return.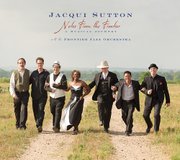 "Nature Boy stood front and center during my adolescence," says Sutton. "After school, and between the 'Dark Shadows' segments, I'd watch 'Best of Nat King Cole' commercials and be mesmerized by his voice."
Cole's 1948 recording of the song was a major hit and "Nature Boy" has since become a pop and jazz standard, with dozens of major artists interpreting the song.
Like Cole, Sutton took a fresh approach to the classic tune with a Spanish/English version, and ultimately reinvented the song. Much like her signature style of blending jazz, bluegrass, classical, musical theater and folk music, Sutton has embraced the charge of creating a new, unique sound and has done so brilliantly. Notes From the Frontier has been received well, even in the most unexpected markets like the Canadian Province, Brooklyn, Ohio, Alaska, Nebraska, Wisconsin, Michigan, Colorado, New Hampshire, Florida, Southern California, New Orleans, and even as far away as The Netherlands; it even landed in the number one spot on the CMJ Jazz Add Charts when it was released last fall. Notes From the Frontier also hit the Top 40 Roots Music Radio charts during its radio campaign.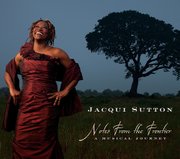 Sutton and the Frontier Jazz Orchestra continue to top the charts; they have become number 15 on the CMJ Jazz Chart issue #1274, and number 20 on the CMJ Jazz Chart issue #1279. After a successful debut album, Billie & Dolly, Sutton was excited to return, with this heady combination of pastoral and urban music.
Shortly after reaching the age of 50, and following a health scare, Sutton decided to pursue her dream of a musical career and formed the Frontier Jazz Orchestra. The band on Notes From the Frontier includes Paul Chester (banjo, guitars), Anthony Sapp (basses), Max Dyer (cello), Ilya Janos (percussion), Henry Darragh (piano, trombone), and Eddie Lewis (trumpet).
Click here to watch the live performance of "Nature Boy."
Connect with Sutton on Facebook at: https://www.facebook.com/Jazz.Grass.Chic and Twitter at @jazzgrasschic.
To learn more about Jacqui Sutton, please visit her official website. To listen to her album, click here.