Actress Kyla Pratt on Labor, Being a New Mom and "Let's Stay Together"
Style Magazine Newswire | 3/26/2013, 5:19 p.m. | Updated on 3/26/2013, 5:19 p.m.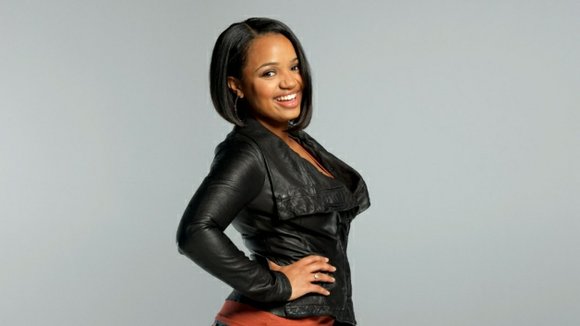 It's 11 a.m. on a Thursday afternoon in Atlanta and Kyla Pratt is on location filming the third season of BET's Let's Stay Together. In between filming, Pratt is enjoying her other, more important role: being a real-life mother to her 2-year-old daughter Lyric. Pratt insists on bringing her baby with her to work so she can witness what she does. While conducting this interview, you can hear the now 26-year-old mom being distracted "Hi baby," Pratt coos. Lyric has just wakened up from a nap and after she discovered a cup her mom left on the dresser, she brings it over to her. "Is this for mommy? Thank you, baby." Pratt plays Crystal Whitmore on the BET romantic comedy airing tonight, a film studies major at Clark Atlanta University. She tells MommyNoire all about her character, what it was like experiencing childbirth at 24 years old and the beauty of being a first-time mother.
On the cutest thing about being a mother:
"When I leave for work in the morning around 6a.m. Lyric is sleeping. I don't see her all day until the end of the day. When I get home, as soon as she hears the key turning in the door, I can hear her footsteps running down the hallway towards the door, so I'm always greeted by this little mini-me, this little body running towards me smiling, and it's the best feeling in the world. I'll be on a high for the rest of the night! It's the best feeling in the world. No matter what I'm stressing about or dealing with, I can always look at this little face and say this is why I do what I do."
On why she enjoyed her labor pains:
"I didn't want to leave the hospital after giving birth because I didn't want the moment to end. I'm pregnancy lady, I love pregnant people, I have four godchildren, I love babies. So going into labor, I'm one of those positive people who have positive thoughts and I tell myself everything is going to go fine. I recently told someone the other day that I enjoyed labor. They thought I was crazy!"
I went into labor and I didn't know I was in labor until a couple of hours later. The contractions weren't what I expected. I expected them to be really strong and then go away but they stayed constant, so I called my doctor and was told to get to the hospital right away. I got an epidural. I loved the hospital, I loved the nurses. My epidural wore off halfway through, so I got to feel what labor is. Yet having her was an unreal moment. Like, what? Oh my gosh! It wasn't too bad, just a couple of pushes and my mom was like "wow, you're good at this!"
We have been inseparable ever since. I was the only mother in the hospital that was up and going everywhere with my baby and the nurses, watching everything they were doing with her. It was a painful experience but it was the most beautiful thing ever. People have a lot of kids because they forget about the pain. I really plan on having more kids in the future because labor doesn't scare me; it was great.
What breastfeeding was like:
Breastfeeding was the hardest the first two months. I mean I read all this stuff, but I was a first-time mom, I was still learning. I try to tell people once you get past that, its smooth sailing!
I like to think of myself as a strong woman, I can take it, but I let people know I'm not crazy. All I did was pray the whole time. With the epidural—the doctor was like "don't move, I'm in your spine," I was like, I'm not going anywhere! (laughs)
On having more children and marriage:
I want more kids. I always wanted to be a mom, I always thought about being a mom. I am getting married but not yet, the best thing about my relationship [with rapper Danny Kirkpatrick a.k.a. Compton] is that we are both on the same page.
On having her wedding as a reality show special:
I'm not sure. I never really thought about it. I never been asked about it, but never say never. I really like Tia and Tamera's show because it's not about drama; it's about being in this industry and becoming a woman.
What she learned after becoming a mom:
Once you have kids, life isn't about you anymore. When I go shopping, I'm like, wait, this money has to go towards something for my baby, so I have to be reminded to get a little something. I'm staying in Atlanta for the show, and we have one DVD player and that DVD is going to have Princess and the Frog. Mommy can't catch up on anything until Lyric goes to sleep but I enjoy it because I show her all the movies we grew up on like The Lion King.
On allowing her daughter to be an actress:
I started out young and didn't turn out crazy. It's because my mom is one of my best friends and I think that's why I made it through okay because I was never pressured into being an actress. I try to make my daughter want to do something else, like being a doctor or a lawyer, but if that's what she wanted to do, I have to support her. I started in this business because I wanted to be just like my mommy because she did theatre in LA, so I always wanted to be on stage. I have a feeling it will be history repeating itself, so you never know. I'm still hoping for the doctor thing. As long as my baby is happy I'm fine.
On taking college courses in Los Angeles:
I'm in college now; I take classes whenever possible. Right now I'm filming the show, so I can't take classes. I go to a junior college in LA., I have a couple of classes left before I can transfer, but my problem is I do a million things at once (laughs). I feel like you can never learn to much, I still take acting classes. I'm a psychology major. After I had my baby, I took a child development class and it was so amazing. I enjoyed that so much. It was weird, people were like "Kyla, where you going?" and I'm like I'm going to school to learn about these kids! It's fun; I don't get a lot of sleep but I like to do everything.
On BET's Let's Stay Together:
Let's Stay Together is a show that is growing. I feel like this season, it's that big upgrade from everything we've done before. Last season, my character dealt with a football player and didn't know he was on the down low and this season she actually deals with that. She has a lot going on, she's a little crazy this season. My character is so fun and it's so much fun to watch how all the other characters on the show are evolving. I can't wait until the premiere; everyone is going to love it. If you've ever been in a relationship, you'll be able to relate to everything on the show.
Lathleen Ade-Brown is a New York City based freelance writer living in New York City. She has written for Essence and Jet magazines. You can follow her on Twitter @Lathleen.