Secretary Salazar Hails Establishment of National Monument Honoring Harriet Tubman
Style Magazine Newswire | 3/27/2013, 12:41 p.m. | Updated on 3/27/2013, 12:41 p.m.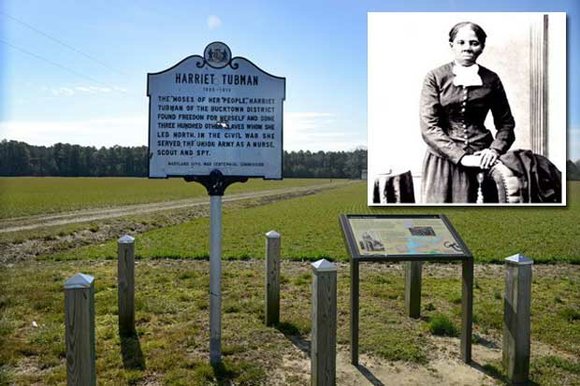 Often referred to as "the Moses of her people," Harriet Tubman (born Araminta Ross) was born enslaved in 1822 in Dorchester County, Maryland, where she grew up and worked until 1849. At age 27 she emancipated herself and fled north through the wetlands and tidal streams that still characterize Maryland's Eastern Shore.
Tubman achieved fame in her lifetime by stealthily returning many times to the familiar Maryland landscape to lead family members and friends out of slavery. She was never captured and she became one of the most prominent "conductors" on the Underground Railroad.
Tubman also served as a nurse and a spy for the Union during the Civil War and later became active in the women's suffrage movement. Her death on March 10, 1913 was reported in the New York Times and was followed a year later by a grand commemoration of her life featuring, among other notables, Booker T. Washington.
Cherie Butler has been named acting superintendent of the new monument. Butler is currently management assistant for the National Park Service's Northeast Regional Office in Philadelphia and has previously served as the chief of interpretation and education for seven national park sites in New York City.
"Harriet Tubman's life and work are a critical chapter in America's story," said Butler. "I am grateful for the opportunity to work with strong and thoughtful partners and a very passionate community who are equally committed to honoring her legacy."
Harriet Tubman Underground Railroad National Monument is one of five national monuments established on Monday by President Obama. The President also designated the Charles Young Buffalo Soldiers National Monument in Ohio, home of a distinguished officer in the United States Army who was the third African American to graduate from West Point and the first to achieve the rank of Colonel, and the First State National Monument in Delaware, a monument to tell the story of the early Dutch, Swedish, Finnish and English settlement of the colony of Delaware, as well as Delaware's role as the first state to ratify the Constitution. These three national monuments will be managed by the National Park Service; two additional monuments, Rio Grande del Norte National Monument in New Mexico and San Juan Islands National Monument in Washington, will be administered by Interior's Bureau of Land Management.
First exercised by President Theodore Roosevelt in 1906 to designate Devils Tower National Monument in Wyoming, the Antiquities Act has been used by 16 presidents to protect unique natural and historic features, such as the Grand Canyon, the Statue of Liberty, and Colorado's Canyons of the Ancients.
For additional information about the park and the life of Harriet Tubman, visit the park's website at www.nps.gov/hatu.