Colleagues and Community Leaders Break the Ice and Broaden Horizons for Houston's First "Bayou Business Social"
Style Magazine Newswire | 5/2/2013, 7:55 p.m. | Updated on 5/2/2013, 7:55 p.m.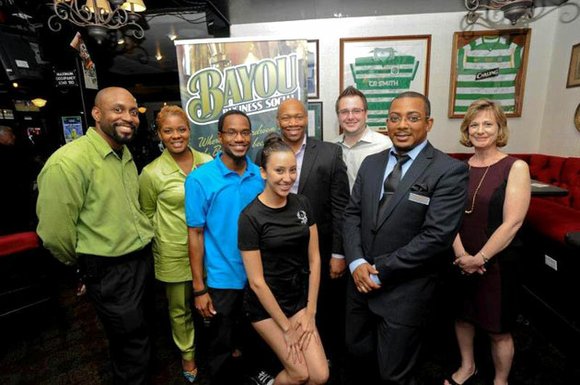 Houston professionals from various industries mingled last Thursday at the inaugural Bayou Business Social - by MWH. The networking mixer was held at the Firkin & Phoenix Pub.The pub's management tells MWH that the Bayou Business Social was a mutually beneficial event.
Embracing the theme, "Where the boardroom and the breakroom become one," the event gave guests the chance to build connections and exchange ideas while enjoying beverages in a relaxed atmosphere. Guests were also able to try savory complementary items from the pub's menu such as Angus Beef Sliders, Santa Fe Egg Rolls, and Famous Wings with Firkin Dipping Sauce.
In addition, guests took part in a drawing for thrilling door prizes. Winners included NAI Houston Creative Director Nuance Stone and MyTicketIn.com Sales & Marketing Rep Karissa Hulsey. HCCS Interim Dean of Student Services Jason Wilson for example, won a $150 gift certificate to Imaging Studios.
Other guests included New Tang Dynasty Television executives Kim Nguyen and Janet Tang, management consultant John Howell, insurance agency owner Camille Hicks, Hospital Fellowship Program Coordinator Salvatrice Hall, Canal Place Apartments Assistant Manager Alicia Harrison, and veteran journalist Kim Davis among many others. Each guest reported enjoying the mixer.
MWH looks forward to hosting additional networking events in the future. The next Bayou Business Social is planned for later this spring.
About MWH Public Relations
Ranked by the Houston Business Journal as one of the top 25 public relations firms in Houston, MWH Public Relations, LLC is a full service public relations and communications consultancy that plans and executes campaigns to build positive brand awareness and create sales leads for its many clients. The firm provides services to a diverse stream of clients in various industries including energy, transportation, publishing, entertainment, health and wellness, professional sports, government services, food, and beverage among others. MWHPR is also a key player in the operation and promotion of Texas' fastest growing media website, Houston's Voice (houstonsvoice.com). To learn more about MWHPR, visit mwhpublicrelations.com or call 713.840.6392.