South Union CDC Celebrates Youth Education with Spring Event
Style Magazine Newswire | 5/2/2013, 12:51 p.m. | Updated on 5/2/2013, 12:51 p.m.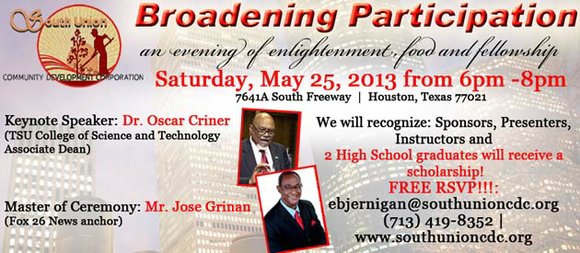 The South Union Community Development Corporation will hold its 3rd Annual Scholarship Recognition Event later this spring at its center in Southeast Houston. The event aims to help raise scholarship funds for the S.T.E.M. Foundation's senior high school students, as well as showcase the S.T.E.M. Foundation presenters and supporters. South Union CDC also showcases its programs through websites such as Houston's Voice.
The S.T.E.M. Foundation program builds a foundation of interest in Science, Technology, Engineering, and Math through online media, weekly presentations, and monthly field trips to see the program in action. S.T.E.M. teaches 3rd through 12th grade students using age-specific computer labs. "My passion is seeing kids know and go," says South Union CDC President Efrem B. Jernigan. The S.T.E.M. Foundation just concluded its latest October-April session, and aims to function year-round in the near future.
South Union CDC's Board of Directors wants to exceed the average Community Development Corporation's reputation of limitation to property development. "We don't want to build homes," says Jernigan. "We want to build minds for a home." Besides youth education, South Union CDC teaches various computer classes and operates a Monday through Friday Senior Lunch Program via a partnership with the Houston Food Bank that provides its hot nutritional meals.
Success stories from past events have led to two students carrying lessons learned from the S.T.E.M. Foundation to their studies at Texas A&M and Howard University. South Union CDC will recognize two scholarship recipients this year as well, including a student on course to obtaining a job with an oil & gas company upon graduation.
This year's event will take place at 7641A South Freeway, Houston, TX 77021 on Saturday, May 25, from 6 p.m. to 8 p.m. This year's theme will be "Broadening Participation" and the event is open to adults from all industries, businesses, and colleges at no charge. Fox 26 News anchor Jose Grinan will serve as Master of Ceremony and Dr. Oscar Criner of Texas Southern University will serve as keynote speaker. To RSVP, click here.
South Union CDC welcomes volunteers and donations. To learn more about the organization, go to www.southunioncdc.org.
About South Union CDC
The South Union Community Development Corporation is a 501(c)(3) non-profit organization. Its volunteers aim to enlighten the community though outreach programs including educational and food service initiatives. The organization started with programming developed through the South Union Church of Christ in 2004, before striking out on its own in 2011. South Union CDC partners with numerous companies and institutions and holds fundraising events throughout the year. South Union CDC's Houston's Voice channel can be accessed here.
About Houston's Voice
Houston's Voice is a community driven video and interactive media network dedicated to supporting the creative efforts of the personalities, businesses and organizations that make Houston great. Houston's Voice is part of Project Open Voice (POV), a pilot program from Comcast that brings organizations together across the web, mobile, social media and cable television outlets. From a desk top or mobile device, viewers may access and interact with original content specific to Houston in the categories of education, business, faith, leisure, youth, arts, sports, food and beverage, and community. For more information or to become a Content Partner, visit www.houstonsvoice.com.