Jazz/Bluegrass Vocalist and Bandleader Jacqui Sutton Rolls Out Second Live Performance on YouTube
Style Magazine Newswire | 5/3/2013, 1:06 p.m. | Updated on 5/3/2013, 1:06 p.m.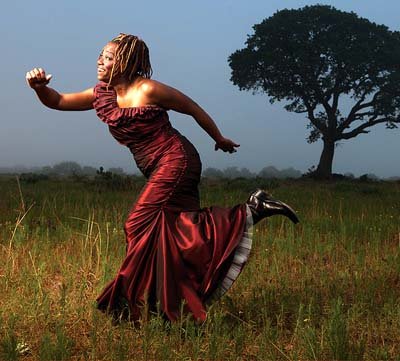 This week, Jazz/Bluegrass Vocalist and Bandleader Jacqui Sutton launched the second video in her live performance series of singles from her albums, Notes From the Frontier and Billie & Dolly. This week's release is "Hummingbird," a multi-rhythmic combination of bluegrass and jazz. 
"When I thought about about hectic flight pattern of the hummingbird, Blue Rondo a la Turk came to mind, and the motif worked not only to change up the rhythm but add an unexpected drive to sections that feature it," said Sutton.
Here you'll find that Eddie Lewis of the Frontier Jazz Orchestra shines, playing the role of the hummingbird by way of the trumpet. In addition, you'll hear hints of Patsy Cline and Honky Tonk on the bridge.
Sutton's Sophomore album, Notes From the Frontier has been well received, even in the most unexpected markets like the Canadian Province, Brooklyn, Ohio, Alaska, Nebraska, Wisconsin, Michigan, Colorado, New Hampshire, Florida, Southern California, New Orleans, and even as far away as The Netherlands; it even landed in the number one spot on the CMJ Jazz Add Charts when it was released last fall. Notes From the Frontier also hit the Top 40 Roots Music Radio charts during its radio campaign. 
Sutton and the Frontier Jazz Orchestra continue to top the charts; they have become number 15 on the CMJ Jazz Chart issue #1274, and number 20 on the CMJ Jazz Chart issue #1279. After a successful debut album, Billie & Dolly, Sutton was excited to return, with this heady combination of pastoral and urban music.
Shortly after reaching the age of 50, and following a health scare, Sutton decided to pursue her dream of a musical career and formed the Frontier Jazz Orchestra. The band on Notes From the Frontier includes Paul Chester (banjo, guitars), Anthony Sapp (basses), Max Dyer (cello), Ilya Janos (percussion), Henry Darragh (piano, trombone), and Eddie Lewis (trumpet).
Click here to watch the live performance of "Hummingbird."
Connect with Sutton on Facebook at:https://www.facebook.com/Jazz.Grass.Chic and Twitter at @jazzgrasschic.
To learn more about Jacqui Sutton, please visit her official website http://www.jacquisutton.com/. To listen to her album, click here.