2013 Mitsubishi Lance GT
Frank S. Washington | 5/6/2013, 10:04 a.m. | Updated on 5/6/2013, 10:04 a.m.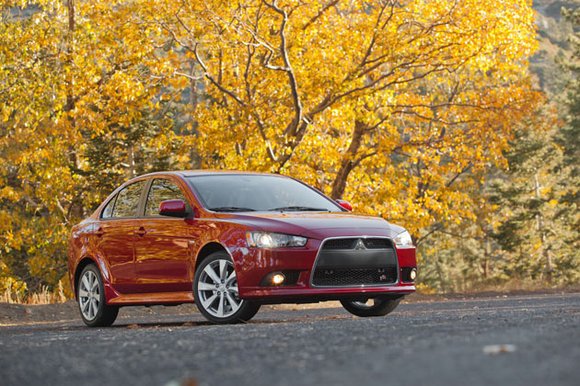 Despite a lack of bells and whistles, the 2013 Mitsubishi Lancer GT was still a slick little sedan.
It was powered by a 2.4-liter four cylinder engine that made 168 horsepower and 167 pound feet of torque. Though this engine can be mated to a continuously variable transmission, it was mated to a five-speed manual gearbox.
That was more than enough oomph for everyday driving. This car, with its manual transmission accelerated well enough to steer clear of trouble on city streets and it easily cruised at 80 mph on the expressways.
Handling was good, the sport tuned suspension was a little soft for a sport but my Lancer GT didn't feel like a floating boat. The ride was solid without feeling harsh. That's always a delicate balance for engineers. The Lancer GT's less than stiff feeling on the roads might not have been a bad thing.
This car did well as a utilitarian everyday driver. It's not a people hauler but four full-size adults could travel in it comfortably. A quick test of the back seats found head room galore. Leg room was acceptable and while three people could squeeze into the back seat, it would really be comfortable for two.
And the suspension handled all the potholes and washer board road surfaces that were left here in the wake of winter. That is when a less than stiff suspension might not be a bad thing. Bouncing over bumps and rumbling along ruddy streets can make a car with a firm sport suspension seem like riding a jack hammer.
About the only advanced technology on this test car was its Bluetooth system that allowed use of a compatible smartphones as a hands-free car phone. The Lancer GT did have an in-dash CD player but these days that does not qualify as advanced technology, not anymore.
There was no navigation system, no voice texting, no satellite radio, no panoramic roof, no auxiliary jacks, no heated steering wheel or heated seats either. This car was built for good old pedestrian transportation. And it did that very well.
However, it did have push button lock and unlock and a keyless ignition switch. That's about as advanced as it got. Still, the Mitsubishi Lancer GT was likable. There was something no nonsense about it.
What's more, the car looked good. It had the front fascia of the Lancer Ralliart and a sizable rear spoiler. Its 18-inch wheels added a look of substance. And the wide mouth grille was a stunner.
The interior was black cloth, the front sport seats were complimented nicely by the back seats that were really comfortable. A leather-wrapped steering wheel and gear shift knob were nice touches.
A tire pressure monitoring system, side curtain air bags and knee air bags were part of the vehicle's safety equipment. For $20,790 as tested, the 2013 Mitsubishi Lancer GT was an excellent buy.