Something's Brewing in the Fountains
Yolanda Pope | 5/8/2013, 4:02 p.m. | Updated on 5/8/2013, 4:02 p.m.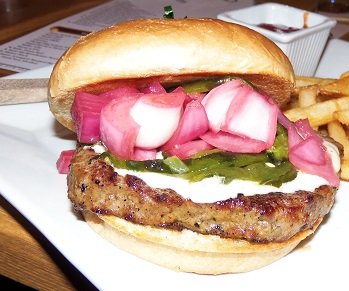 Greetings Style family; today we are taking a trip to The Fountains, not to drink water, but to a place that clearly stands out among the group of restaurants that are side by side in The Fountain Lake Shopping Center. This place is called The Barrel and Brew, and not only do they have outstanding food, drinks, and customer service, they sell over 50 craft beers that are made locally. Owner Joe Harrington, clearly demonstrates his passion for everything culinary, by putting together a menu that has more than burgers, beer, and fries, he puts his own spin on some of the classics as well.
The welcome message on their website clearly sums up my experience when I visited this establishment: "We're people who really love well-prepared food full of flavor and hand-crafted Beer from those who are passionate about it. We couldn't find a place suited for our needs, so we opened our own. We put together a menu that has something for everybody freshly prepared every day. Craft Beer is an obsession and we offer over fifty, from light to dark, Lager to Stout. We guarantee that you'll find something exciting. The Best we can do is make you feel welcome and leave you feeling like our home is your home."
For example, their macaroni and cheese is not just noodles and cheese, the recipe includes a fusion of beer with the cheese sauce, and the taste of the final product is amazing. The cheese sauce is creamy and the beer highlights the flavor of the noodles and the sauce without charging your palate.

Also, The Barrel and Brew serves a cheeseburger that is so good in my opinion, it should have its own zip code. The name of this delicacy is called, "The Green Chile Cheeseburger", which is made with hatch chile, monterrey jack, parmesean cheese sauce, and red pickled onions.

If you're not familiar with the hatch chile , the name refers to "a species of peppers grown in an area stretching north and south along the Rio Grande from Arrey, New Mexico, in the north to Tonuco Mountain to the south of Hatch, New Mexico. Most of the varieties of chile cultivated in the Hatch Valley have been developed at New Mexico State University over the last 130 years."
Moreover, the hatch chile added the right amount of heat to the burger, which was balanced by the red pickled onions, and the cheese contributed just enough salt to the combination of flavors. I think my eyes rolled in my head every time I took a bite. I dare you to go see for yourself, The Barrel and Brew is located at 12720 Southwest Fwy, Stafford, TX 77477. To see their full menu, go to: www.thebarrelandbrew.com.
Happy Eating, and don't forget to check out my blog: www.eatingwithstyle.wordpress.com, and follow me on twitter: @YPEatingwstyle, Thanks for stopping by!