Father's Day Gift Guide
Style Magazine Newswire | 5/9/2013, 1:49 p.m. | Updated on 5/9/2013, 1:49 p.m.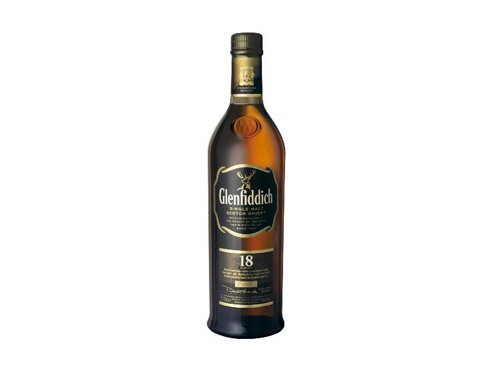 Wines and spirits of every price would make a perfect gift for dad this Father's Day!
For the Connoisseur:
Reserve a gift of Glenfiddich, the world's most awarded Single Malt Scotch Whisky. The distillery, located in Dufftown, was built in 1886 by William Grant with the help of his seven sons and two daughters. To this day, Glenfiddich remains an independent, family-owned company run by the fifth generation of William Grant's family. This independence allows the brand creative freedom to continue to innovate and set the standard against which the rest of the category is measured, while continuing to set the trend of releasing some of the world's rarest whiskies. "The Glenfiddich 18 Year Old is a perfect choice for the father who knows his scotch. The whisky's complex character and sublime mellowness comes from the long years of maturation in the finest sherry and bourbon casks," said Mitch Bechard, Glenfiddich Ambassador (SRP $84.99). For more information on other variants, visit http://www.glenfiddich.com .
For the Craftsman:
Consider a bottle of The Balvenie – a unique range of single malt Scotch whiskies handcrafted by William Grant & Sons. No other distillery is like it due to the fact that The Balvenie continues to retain complete control over the five rare crafts that go into the production of the spirit: (1) Growing its own barley; (2) Malting in its own traditional malting floor; (3) Employing coopers to tend every cask; (4) Having a resident coppersmith to maintain the stills; (5) And having the longest serving malt master in the industry to ensure that the resulting spirit is consistently excellent. "The Balvenie is perfect for the father with the discerning eye for extraordinary craftsmanship, because it is that skill, along with our dedication to producing a truly handcrafted whisky, which sets us apart," said Lorne Cousin, The Balvenie Ambassador. A recent release is 17 Year Old DoubleWood, created to commemorate Malt Master David Stewart's 50th Anniversary (SRP $129.99). For more information on other variants, visit http://www.thebalvenie.com .
For the Father or Grandfather:
Consider a bottle of Grant's Family Reserve Blended Scotch Whisky for the one who has taught you many of life's lessons. Produced by William Grant & Sons, Grant's is a premium blended whisky and is made using a method that has been passed down from generation to generation for more than 100 years. It is now in the hands of the sixth-ever Master Blender, Brian Kinsman, who keeps alive William Grant's passion for blending the finest whisky. "Brian skillfully blends around 25 of the finest single malt and grain Scotch whiskies to make Grant's Family Reserve. The basis for the blend is our widely acclaimed Girvan grain whisky that is vacuum distilled at a lower temperature to make it a lighter, more delicate spirit. It is then aged in oak to give it a deeper, sweeter, soft fruit flavor, creating the perfect foundation and a great gift for the family patriarch," said Ludovic Ducrocq, Grant's Whisky Global Ambassador (SRP $17.99). For more information, visit http://www.grantswhisky.com .
For the Individualist:
The man who marches to the beat of his own drum might appreciate Hendrick's Gin, the most unusual gin. This gin has taken the world by storm since it was first introduced 1999, thanks to its delightfully unique flavor – a combination of a distinct blend of 11 botanicals and the signature infusions of cucumber and rose petals, producing a wonderfully refreshing gin. Handcrafted in Scotland in miniscule batches by William Grant & Sons, Hendrick's uses a marriage of spirits from a Carter-Head and Copper Pot Still. The combination produces a divinely smooth gin that has both the required character and balance of subtle flavors. "Hendrick's is not for just any dad – it's for free-thinkers enlightened to the unusual, inspired by imagination," said Jim Ryan, brand ambassador for Hendrick's Gin. (SRP $34.99). For more information, visit http://www.hendricksgin.com .
For the Laid Back and Sociable Man:
If your father is never at a loss for words, give him a bottle of Tullamore D.E.W. – a triple distilled, triple blend Irish whiskey with an intriguingly smooth yet complex character. Using only the finest grains and purest water, it is patiently aged in specially seasoned oak casks to develop its complexity. "Tullamore D.E.W. is meant to be enjoyed 'Irish True' style, surrounded by good friends and good laughs. It's fit for the easygoing father, whether he's out with his mates or home with his family; a seasoned connoisseur or a complete whiskey novice," said Tim Herlihy, U.S. brand ambassador for Tullamore D.E.W. Give him the very best of the portfolio with the Tullamore D.E.W. 12 Year Old Special Reserve (SRP $40). For more information, visit http://www.tullamoredew.com .
For the Traditionalist Who Appreciates Modern Technology:
Milagro Tequila, founded in 1997 by Mexico City natives Daniel Schneeweiss and Moises Guindi, has quickly escalated into one of the world's leading tequila brands with one foot in tradition and the other in the future. The spirit is created by combining the finest old-world techniques and traditions and applying modern technologies and processes to produce a superior product, and then triple-distilled in small batches from the finest blue agave from the Jalisco Highlands. "The Select Barrel Reserve line is a great gift for the tequila-loving father, and the award-winning bottle design sits nicely on the shelf," said Jaime Salas, ambassador for Milagro Tequila (SRP $51.99-89.99). For more information, visit http://www.milagrotequila.com .

For the Self-Made Man and Entrepreneur:
Present him with a bottle of elit™ by Stolichnaya®. With a bold and balanced flavor that is expertly crafted, elit by Stolichnaya has a velvety smooth finish with a unique taste and character. As a result of being made with the classic, authentic Stolichnaya base spirit, which is produced to the highest standards using 100% Russian wheat, rye and artesian well water, it is then distilled and filtered four times to ensure that the spirit is defined by its extraordinary character. After distillation, it is mixed with specially balanced water and goes through 3 filtrations, the first of which is the unique "freeze-filtration" process to ensure no imperfections remain in the final liquid. "This spirit is an ultra-luxury vodka of unprecedented excellence that ranks among the finest in the world, perfect for the dad who works hard for only the best," said Brent Lamberti, brand ambassador for elit by Stolichnaya (SRP $59.99). For more information, visit http://www.elitbystoli.com .
For the Adventurer:
Consider a bottle of Solerno Blood Orange Liqueur – a spirit expertly crafted in Sicily and brought to you by Master Distiller, Lesley Gracie, the same distiller as of Hendrick's Gin. Solerno is a beautifully crafted spirit from Sicily that has a sleek and vibrant Murano-inspired glass bottle and deliciously sweet and tangy blood-orange taste that makes it the perfect spirit for any Italophile father looking for a less conventional yet versatile bar staple. Solerno functions as a base spirit as well as a modifier and provides a unique addition to a glass of wheat beer which, according to brand ambassador, Jackie Patterson, creates "the perfect twist on a traditional summer shandy" (SRP $36.99). For more information, visit http://solernoliqueur.com/.
For the Nature-Lover:
 Consider a bottle of The Puzzle from Newton Vineyards. Newton is a leader in unfiltered wines, dedicated to working in harmony with nature to transform grapes of uncompromised quality into wines of distinctive character. Based on an old-world style, Newton's winemaking techniques include natural fermentation and bottling without filtration at the Spring Valley estate in Napa Valley. These purist traditions preserve the natural depth of flavor, bouquet and structure. The Puzzle is a paramount wine hand-selected from 112 separate vineyard blocks (SRP $100). For more information, visit http://www.newtonvinyeard.com .
For the Wine Collector:
Cheval des Andes is a joint venture between the legendary Chateau Cheval Blanc of Bordeaux and Terrazas de los Andes from Argentina. The Cheval des Andes vineyards are managed like a "Grand Cru" of the Andes by Winemakers Nicolas Audebert and Pierre Lurton. The 2008 vintage has an intense red color with bright tinges that express its vivacity and purity. An aromatically fresh and refined wine, the delicate and silky tannins are balanced by a seductive acidity, combined with elegant notes of red fruits and tobacco. (SRP $79.99). For more information, visit http://www.chevaldesandes.com .
For the Grillmaster:
Terrazas Malbec is a full-bodied wine that impeccably complements a slow-cooked barbequed dish. The wine boasts notes of violets and black cherries, with aromas of cinnamon and coconut , contributing to an overall complexity that pairs perfectly with grilled items. One can enjoy their own warm-weather Asado, Argentina's version of a barbeque gathering, by grilling their meat low and slow, pairing it with a savory sauce (like a chimichuri) and serving a fine bottle of Terrazas Malbec (SRP $18.99). For more information, visit http://www.terrazasdelosandes.com .
For the Deal-Seeker:
Inexpensive wines do not necessarily equate with poor quality. The Terrazas Cabernet Sauvignon is a budget-friendly red wine varietal emerging out of Argentina and steadily becoming as popular as Malbec. The Terrazas Cabernet Sauvignon has value and a price point that rivals many California brands. With notes of black berry preserve, mint and eucalyptus, this wine has a firm tannin structure and aromatic persistence that is sure to complement rich roasted meats (SRP $18.99). For more information, visit http://www.terrazasdelosandes.com .
For the Distinguished Man:
Consider a bottle of Numanthia Termanthia – a century in a glass, Numanthia is the treasure of the Toro appellation and a leader of emerging Spanish premium wines. The combination of a unique terroir, an exceptional vineyard and the quintessential expression of the fruit places Numanthia as one of the cult wineries of the Toro region in Spain. Termanthia (SRP $200) – one of only nine Spanish wines to have ever been awarded a perfect 100 points by The Wine Advocate – is the ultimate expression of the best vineyard plots in Toro. With vines that are over 120 years old and grown at an altitude of 2,625 feet above sea level, Termanthia is extremely rich and compex, with notes of licorice, truffle, balsamic and spices. For more information, visit http://www.numanthia.com .