Houston Style Magazine hosts The Trend Spotter summer event series with Macy's Sage Galleria Houston
Style Magazine Newswire | 5/15/2013, 2:45 p.m. | Updated on 5/15/2013, 2:45 p.m.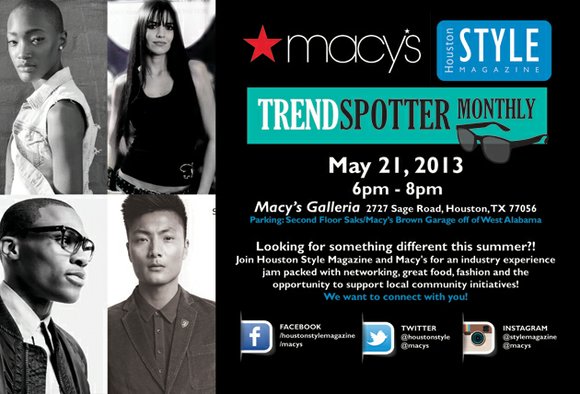 The Trend Spotter summer event series is a platform for Houston Style Magazine and Macy's Sage to provide an awesome set of events to our city's bustling demographic of young adults looking for the next cool thing around town. Expect a unique fashion industry experience jam packed with light snacks/drinks, good music, networking, styling tips and an opportunity to support local community initiatives and organizations. Our first date highlights the nonprofit, Team Gini. Team Gini provides engagement with the youth in creative ways (remixes of popular songs rewritten with positive messages, theatrical performances, community support by hosting donation drives for other organizations) to help participants discover their purpose through "edutainment" (educational entertainment) .
Dates: May 21, 2013, June 25,July 23, August 27
Time: 6-8:00pm
Location: Macy's Sage 2727 Sage Rd Houston, TX 77056
Number: (713) 968-1985
*Parking: Second Floor Saks/Macy's Brown Garage off of West Alabama.
The Trend Spotter Host Committee is a diverse group of progressive individuals, organizations and companies pioneering their way to success in their respective fields here in Houston. Keagan Noelle Stylist, Feyi Omodele Stylist, Jon "Cabby" Caballero The Class Room Men's Boutique, Phillip Adesulu JPR Styling, The Houston Fashion Bloggers, Zoe Jackson-Jarra Stylist, Chigozie Anaele Designer Kachi Designs, DJ Fanci, Ahrif Sarmui Writer/Contributor Huffington Post, Chris Huston R&B/Pop artist, SoutherNewyorker Kavachi, Chris Manfredi Futurist & CEO Connect Strategies, Brittany Sweetnam Stylist, Southern Gents', Shalanda Turner Live Life in Style Blog, Marquis Trill MC/YouTube Personality, Nadia Palacios Lauterbach & Gabriella Aliberti Mon Venin