Houston Style Magazine Salutes the Class of 2013 African American Valedictorians
Style Magazine Newswire | 5/28/2013, 12:46 p.m. | Updated on 5/28/2013, 12:46 p.m.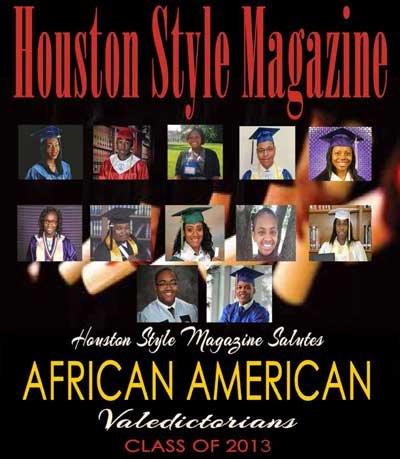 Cynthia Koboo—Davis High School
Cynthia Koboo plans to pursue a degree in pre-medicine from Baylor University using the Project GRAD Houston and Jones Scholarships she received. Koboo lists her favorite subject as biology, and she is a member of the National Honor Society and the Daughters of the American Revolution. Koboo enjoys reading, running, and braiding hair professionally. Koboo has been named Student of the Year in Advanced Placement (AP) calculus, AP French, and U.S. history. She also received a letter jacket through the school's Academic Letterman program for maintaining a "straight A" average for three consecutive years.
Christopher Dwellingham—Furr High School
Christopher Dwellingham serves as president of his senior class and foreman on the Principal's Court. He is also a member of the National Honor Society, the Student Council, and the Junior Reserve Officer Training Corps' rifle and drill teams. Dwellingham enjoys running, playing basketball, and writing poems. He has received scholarships from the Houston Endowment, Phi Beta Kappa, and the Texas Legislative Black Caucus. He has also received awards for his performance in track and academics. Dwellingham is active in his school's GIVE Club, Drama Club, track team, and basketball team. He plans to major in criminal justice at Lamar University.
Taylor Ross—High School for Law Enforcement and Criminal Justice
Taylor Ross plans to major in sociology at Brown University, where she will use the Questbridge National College Match Scholarship she received. Ross lists her favorite subject as Advanced Placement English literature, and her hobbies as reading, writing, and dancing. Ross is a member of the Business Professionals of America, the National Honor Society, Student Council, and the Texas Business Alliance. She also serves as captain of the cheerleading squad, president of Ladies of Justice, and president of Students Against Drugs. She won a Mickey Leland Kibbutzim Internship to travel to Israel as a junior, and she has been recognized for her exemplary academic performance in debate and government.
DonLeon Allen—Hope Academy
DonLeon Allen intends to study business finance at either Lamar University or the University of Houston. While at Hope, where he has been active in the Newsletter Club, Habitat for Humanity, and the Texas Business Alliance's Youth Entrepreneurship Academy. Allen lists his favorite subjects as mathematics and science, and some of his hobbies as boxing and taking care of children. He was a member of the National Junior Honor Society and a recipient of his school's Martin Luther King Jr. Award for excellence in public speaking.
Denise Winborn—Jones High School
Denise Winborn is a member of the National Honor Society and a commander in the Junior Reserve Office Training Corps (JROTC). She is also active on her school's varsity soccer team and MS 150 bike team. An Honor Roll student, Winborn has been recognized for her superior performance in science, writing, and JROTC activities. She lists her favorite subjects as Spanish and biology. Winborn plans to major in interdisciplinary studies at Texas A&M University, from which she has already received multiple scholarships, totaling more than $25,000. She is also the recipient of a Comcast Leaders and Achievers Scholarship and a Metropolitan Scholarship from the Houston Livestock Show and Rodeo. In her spare time, Winborn enjoys writing, playing soccer, and practicing the guitar.