H-E-B and Houston Texas 'Sacks for Hunger' Raises $47,000 for the Houston Food Bank
Style Magazine Newswire | 5/28/2013, 2:57 p.m. | Updated on 5/28/2013, 2:57 p.m.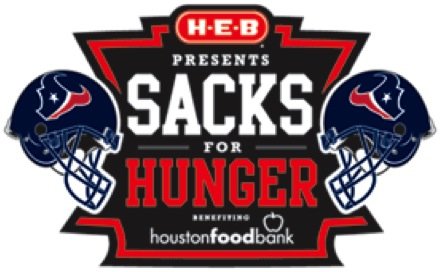 H-E-B and the Houston Texans are proud to present the Houston Food Bank with $47,000 through the H-E-B Sacks for Hunger program. This translates into 141,000 meals for hungry Houstonians.
Starting with the 2010 NFL season, H-E-B has partnered annually with the Houston Texans on the Sacks for Hunger promotion as part of the company's ongoing support of the Houston Food Bank. Through the program, H-E-B pledged to donate $1,000 to the Houston Food Bank each time the Texans defense sacked the opponent's quarterback during the regular season and playoffs.
The Texans defense recorded 47 sacks in 2013, including the playoffs, resulting in a Sacks for Hunger donation of $47,000. Watt accounted for 22 of the team's 47 sacks, meaning that he personally supplied 66,000 meals for hungry Houstonians.
The Houston Food Bank feeds 137,000 people each week by distributing food through nearly 500 hunger relief agencies in 18 southeast Texas counties, including church pantries, homeless shelters, safe havens and nutrition sites for children and the elderly. Thanks to strong community partnerships, the Houston Food Bank is able to stretch every $1 donation to provide a full day of meals for one person.
H-E-B is proud to serve as the largest contributor to food banks in the state of Texas.
WHO/ WHAT: H-E-B Senior Vice President Armando Perez will present President and CEO of the Houston Food Bank Brian Greene with a check for $47,000. On site for the presentation will be President of the Houston Texans Jamey Rootes and

H-E-B Official Partner J.J. Watt, Texans defensive end

In addition, H-E-B and Houston Texans volunteers will be participating in a day of service from 9 a.m. to noon.
WHEN: Friday, May 31, 2013
10:45 a.m. check presentation
9 a.m.-noon H-E-B and Houston Texans Day of Service
WHERE: Houston Food Bank
535 Portwall Street
Houston, Texas 77029
INTERVIEWS: H-E-B Senior Vice President Armando Perez
President and CEO of the Houston Food Bank Brian Greene


President of the Houston Texans Jamey Rootes
Houston Texans defensive end J.J. Watt