Tom Cruise: I never 'abandoned' Suri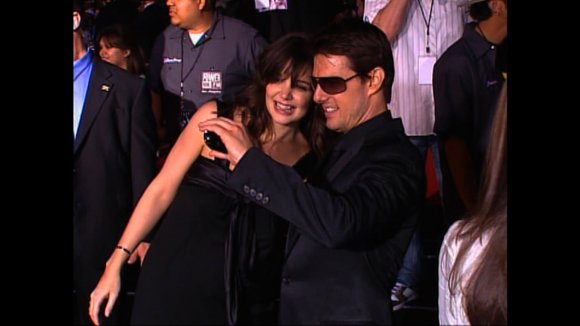 By Alan Duke
CNN
Tom Cruise is defending his relationship with daughter Suri, denying that she felt "abandoned" last summer when he was divorcing her mother, actress Katie Holmes.
Cruise's sworn affidavit was filed in federal court Tuesday as part of the actor's defamation lawsuit against a tabloid publisher; it was made public Wednesday.
"The assertion that I 'abandoned' Suri after my divorce is patently false," Cruise said. "I have in no way cut Suri out of my life -- whether physically, emotionally, financially or otherwise."
His lawyers are trying to force Bauer Publishing Group to disclose any sources that support the headlines and stories published by the company's Life & Style and InTouch magazines.
Tabloid lawyers: Headlines are 'true or substantially true'
The publisher said in a statement Thursday that both magazines "stand behind the reporting and articles at issue in Mr. Cruise's action."
"This litigation has established that the editorial teams had a wealth of evidence substantiating that following his divorce from Ms. Holmes, Mr. Cruise was absent from his daughter for long periods of time, that seeing her was not his first priority and that she was emotionally struggling as a result of her father's extended absences," Bauer Publishing said. "Mr. Cruise does not challenge the accuracy of any of the underlying facts that informed the opinions expressed by the editorial teams at In Touch and Life & Style."
The tabloids' lawyers argued in a response filed in court in December that Cruise can't win "because he is a public figure and the Bauer defendants did not act with actual malice."
"The articles reported on an issue of legitimate public interest," the publisher said in Thursday's statement. "Mr. Cruise has repeatedly promoted himself as being a devoted father who made his family his top priority. Now, with his own admissions, it is clear that the picture he strives to paint is not accurate. It is entirely in keeping with responsible reporting to question Mr. Cruise's self-promotion and to inform the public about the truth."
The publisher's court filing said that Cruise "did not dispute that he had not visited Suri for over two months, despite previously assuring his daughter that he would be spending a lot of time with her after his divorce."
The July 18, 2012, Life & Style cover carried the headline "SURI IN TEARS, ABANDONED BY HER DAD" along with a photo of the child. There was no accompanying story to support or explain the headline.
A story inside the July 30, 2012, Life & Style read "Suri's emotional troubles," under a photograph of Suri appearing to have tears in her eyes while in her mother's arms, the suit said. The story reveals that it was "as a result of Suri being upset over not being able to take a puppy home from a pet store."
The complaint also points to an InTouch cover story from September 2012 headlined "44 DAYS WITHOUT TOM ... ABANDONED BY DADDY ... Suri is left heartbroken as Tom suddenly shuts her out and even misses her first day of school... HAS HE CHOSEN SCIENTOLOGY OVER SURI FOR GOOD?"