Dress For Success Houston hosts their 13th Annual A Night Out
Taylor Reynolds | 11/26/2013, 2:29 p.m. | Updated on 11/26/2013, 2:29 p.m.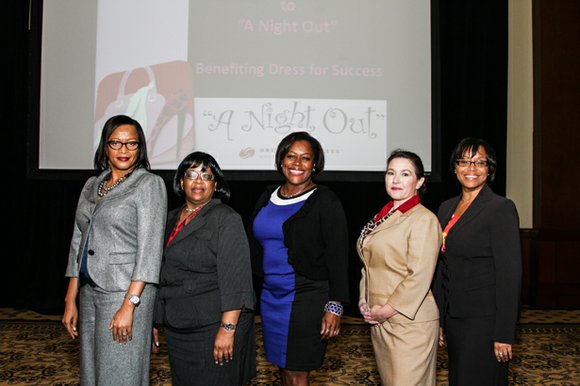 If you weren't at A Night Out Wednesday evening where hundreds Houston's most ambitious and trendy women gathered, then you definitely missed a must-see event! The event featured Houston's hottest image consultants, Holly Thompson and Cathy Fitzpatrick Cleary, who provided great fashion tips and ideas. The mistress of ceremonies was Texas' own Sharron Melton from KTRK ABC Channel 13.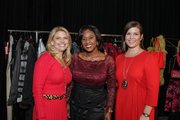 Dress For Success attendees enjoyed a three-course dinner, fashion show, boutique shopping, goodie bags, and raffle; which all contributed to the goal of generating funds to provide professional attire for women transitioning into the workforce. Fundraising efforts that night also provided scholarships to approximately 5,000 women.
Gardere Wynne Sewell LLP sponsored A Night Out, which benefited Dress for Success® Houston for the ninth consecutive year. The event was chaired by Rachel Powitzky Steely, a Labor and Employment Partner in Gardere's Houston office.  Steely is an extremely active member of Dress for Success Houston's Corporate Guild.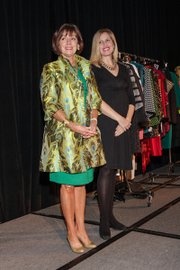 The fabulous boutiques and vendors were all owned and operated by women working toward the success of the fundraising event. The vendors contributed to women's great desires of timeless fashion, beauty tips, and sinful addictions to chocolate. A Night Out generated roughly $111,000, bringing Dress for Success to approximately $750,000, bringing the organization one step closer to fulfilling its goal of $1,000,000.  Dress for Successwas established in 1996 and has been inspiring women to succeed since then.
For More Information:
@DFSHouston
11/20/13 interview with Rachel Powitzky Steely
[Taylor]: What inspired you to get involved with dress for success?
[Rachel]:Gardere wanted to find an organization where women can empower other women… we have a women's council at Gardere and I'm in charge of the women's council for Houston and one of the things we looked at is how can we get involved and help other women in the community? One of the partners on the board came and talked to me about this, so I thought it was a perfect fit.
[Taylor]: What is your story?
[Rachel]: I am from Pasadena; I am from a regular family in Pasadena. I went to public schools; my mom is a school teacher. I attended Texas A&M University, at that time I had no idea, I was always told I would make a good lawyer but you never know about that. I entered a work-study program at TAMU to go out and figure out what I wanted to do, that's where I decided I wanted to be a lawyer and went to law school. I paid for it on my own, had to understand what I was getting into and how much debt I was acquiring… I met my husband while I was in law school, I got married when I was 30 and I always knew I wanted kids. I understood that woman have a challenge because we have the kids. So I needed to have enough flexibility, so I stayed in Houston because my parents live here. They are a big support, but more than anything I realized you have to work hard. You want to do it, you have to enjoy it; I'm a trial lawyer, an employment lawyer. I love what I do… even when it got hard I always saw that as temporary; in the long run it pays off. I've met a lot of women that kind of gave up because they didn't understand the temporary nature of the situation.
[Taylor]: Let me add that you look absolutely fabulous! A lot of people that have a career and children often show physically that they've been weighed and experienced in life. How did you get to a point where you could simply say "this is only temporary" when going through stressful times.
[Rachel]: I think I just figured it out after my first one [child], I knew I had family and I always knew that whatever I did was going to be okay. I didn't matter what the decision was, there was no wrong decision and I think that people are afraid of making bad decisions. Get in your head what it is that you want to do and don't let anyone tell you different. I think the biggest thing that I learned is that everyone wants to define what success is by how much money you have and where you are in society but as a woman, particularly with kids, you have to make your own definition of success and do not vary from that. Your outside forces tell you all these different definitions of success, but if you stick to your own definition of success then I think you become more successful because you're not worried about what other people have to say.
Quit listening to everyone else, define your own definition.
[Taylor]: Do you have any advice for young women trying to get into their careers?
[Rachel]: yeah actually, Dress for Success works for young women, I think the most important thing is to believe in yourself and don't think that any particular obstacle is enough to make you stop or slow down; believe that you can handle it. Also you have to work hard, I have three kids; you have to work hard.
[Taylor]: What do you have to say about women that use their looks to gain their success? Do you have any advice for them?
[Rachel]: You can't rely on it, that's a phase. Really the only thing you can rely on is integrity and the person that you are because good looks are going to fade. In the end you are left with only yourself so know who you are and what you want to do.
[Taylor]: For those women that took career breaks to be stay at home moms or for whatever reason and they are now trying to re-enter the work force what would you say to them?
[Rachel]: I believe that with age comes wisdom, that's one of the nice things about Dress for Success. It works with that group of women, because what happens is over a 100 non-profit organizations refer women to Dress for Success.  There are women who have been out of work for a while and are trying to find contacts on how to get back in [the work force] and they are often times referred to Dress for Success, those types of women make up a large population of the people that seek help from Dress for Success. I really think that to a large extent, you want someone that is experienced and will work hard, it shouldn't matter what age they are.
[Taylor]: What is your proudest moment, what are you looking most forward to with Dress for Success?
[Rachel]: We want to get to the one million dollar mark. We are currently at $750,000 so we are almost there! So I'm not stopping until we get there.
[Taylor]: When it comes to mentoring a lot of youth get their idols from media, how do you put the image of a successful, professional woman when competing with media?
[Rachel]: Lead by example. As a mother, you share with your children what you are doing. I brought my daughter here tonight. You create that example for your children.
[Taylor]: What's one thing you would say to all women on behalf of Dress for Success?
[Rachel]: Believe in yourself, and have your own definition of success.