$10,000 in Cash Will Be Awarded to Small Women-Owned Businesses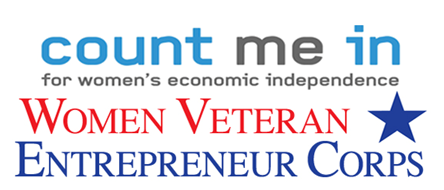 Ten small companies stand to receive $1,000 each in cash and additional prizes as a part of a new competition promoting female veteran entrepreneurship at the upcoming Women Veteran Entrepreneur Corps (WVEC) Conference and Competition created by Count Me In.
Count Me In for Women's Economic Independence (CMI) is a national not-for-profit provider of resources, business education and community support for women entrepreneurs seeking to grow their micro-businesses into million dollar enterprises. Count Me In launched its WVEC Program (#WVECTX) last month to help owners or co-owners of small businesses that are owned by female service women, spouses or children of veterans.
WVEC is open to business owners at the post-start up phase who are prepared to embark upon a serious path of learning and capacity building in finance, marketing, hiring, leadership, and more, all focused on significant and sustainable growth for their small businesses.
Count Me In and Capital One worked with Braun Research to survey 800 women veteran business owners. The majority of women veterans say the main reason they started their business was the desire to be their own boss. They also said that their military service gave them self-confidence, the ability to adapt quickly to changing environments, and the ability to take calculated risks in their businesses. Many said that being a small business owner helped them transition to civilian life after military service.
The WVEC event will take place during a 1 ½ day conference at the Capital One Conference Center in Plano, TX, November 18-19, 2013. Participating women will:
Learn growth strategies from nationally renowned small business experts.
Meet women who have built their ideas into million dollar successes with CMI program. These women are there to support event participants and offer advice and insights on how to think like a CEO, position a business for success, improve work-life balance, and more.
Pitch their businesses for a chance to join Count Me In's celebrated Business Accelerator Program, a six-month business education intensive designed to help women grow their businesses significantly within 18-36 months.
Connect with hundreds of motivated women veteran entrepreneurs from across the country in a variety of business sectors – new clients, vendors and peers.
Selected WVEC finalists will receive additional prizes such as a media packet which includes a professional headshot; and press release template to which they can use to promote their business.
To help women prepare for the November 2013 WVEC Event, CMI will host a series of free Pitch Parties September through November 2013 in select cities across Texas for interested business owners. Pitch Parties are designed to help contestants practice their two-minute business pitch and receive expert feedback from CMI-trained experts on how to make it work best for growing their business, network with other women veteran entrepreneurs to foster a community of motivation and support, and learn more about the WVEC event. The free Pitch Parties are located in Dallas/Fort Worth, Houston, Austin, San Antonio and El Paso. Interested women can RSVP to Pitch Parties at WVEC@countmein.org or registering online here.