Houston Planning Department receives Award from Texas Chapter of the American Planning Association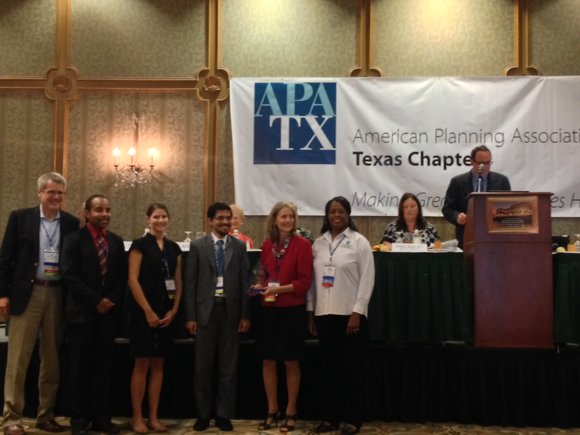 The city of Houston Planning Department received the Current Planning Award for the Urban Houston Framework from the Texas Chapter of the American Planning Association (Texas APA). The award is based on an outstanding ordinance, program or process directed to the implementation of a plan.
The Urban Houston Framework is a study intended to guide in the development of vibrant live/work/play environments, specifically urban centers. Through a series of dialogues with the public and industry professionals on the City's growth, the Framework resulted in recommended policies, tools and incentives to encourage responsible, sustainable development while preserving the character of existing neighborhoods. To read the full report, go to http://www.urbanhoustonframework.com/ .
The Framework was done under the auspices of a Sustainable Communities Regional Planning grant to develop a regional plan for the 13-county Texas Gulf Coast Planning Region awarded to the City of Houston along with the Houston-Galveston Area Council (H-GAC) and a consortium of regional partners.
The goal of the Texas APA awards is to recognize individuals, organizations and communities for outstanding contributions to planning in Texas.