First on CNN: DNC targets key Republicans over shutdown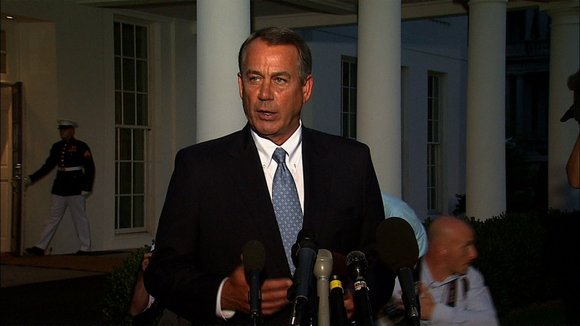 CNN Political Editor Paul Steinhauser
The Democratic National Committee said Tuesday that it was launching a paid media campaign that targets Republican congressional leaders, blaming them for shutting down the federal government and risking a default on the nation's obligations.
The DNC told CNN that it is beginning the first phase of its campaign with robocalls and online ad campaigns utilizing Twitter and Google ads targeting voters in the home states of House Speaker John Boehner, House Majority Leader Eric Cantor, Senate Minority Leader Mitch McConnell, and Sens. Rand Paul, Marco Rubio and Ted Cruz.
"I'm calling from the DNC with a GOP Shutdown Alert. Congressman John Boehner was an architect of the GOP's government shutdown," starts the recorded telephone call to voters in Boehner's Ohio district.
The party committee also says it will run national ads on Facebook and Google to try and engage supporters around the country over the one week old partial shutdown of the federal government.
"We're holding Republicans accountable until they end this manufactured crisis, call a vote to fully fund the government through a clean continuing spending resolution, and allow the nation to pay its bills," Rep. Debbie Wasserman Schultz, the DNC chair, said in a statement.
Both political parties have been pointing fingers at each other over the shutdown and the lack of any deal to raise the nation's debt ceiling before an October 17 deadline. New national polling indicates that more people blame or are angry at Republicans than Democrats or President Obama, but the surveys suggest that all sides are taking a hit.