Hip Hop Icon Mc Lyte Captures Gold with "I AM HIP HOP" Lifetime Achievement Award at BET Hip Hop Awards
Rebecca Briscoe | 10/8/2013, 12:01 p.m. | Updated on 10/8/2013, 12:01 p.m.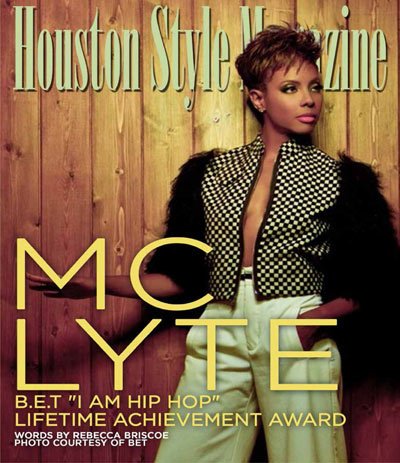 When I heard the news that MC Lyte was this year's recipient of the "I Am Hip Hop Award" I was overjoyed. MC Lyte's name is synonymous with the word "icon in the hip hop community, a dedicated philanthropist and a consummate creative in the arts. A Brooklyn native, Lana Michelle Moorer (MC Lyte) is a trailblazer who burst into the rap scene in the 80s commanding the mic, becoming the first female rapper to release a full studio album.  This award was very fitting for a woman who has continuously broken barriers, made history and sustained relevance; while fulfilling her destiny to serve others.
I admire her talent, courage and goodwill because she was my first celebrity interview three years ago. She sat down with a young lady that was trying to find herself in the media world. Little did MC Lyte know that she was planting a seed for me to follow my passion. Talking to her was like an open book; which left me spellbound because I had no idea she would be so open with her testimony and inspiring words. This interview was special because I had to let her know that she created a path for me to continuously break barriers in my respected field while making a conscious effort to help others.
RB: Tell us where you were, and what you were doing when you got the call that you are this year's BET Hip Hop Awards "I am Hip Hop Award" winner.
MC Lyte: I was actually in the car driving. The BET Production team called me, and asked me what I thought; I was like 'let's make it happen.' I was calm and extremely humbled. I didn't scream though, I will save that for winning the lotto.
RB: With honor comes great sacrifice, what have you sacrificed to ensure success?
MC Lyte: I have sacrificed my TIME. Moments when I would rather do other things, and enjoy life I must dedicate to my business. I have no regrets. I do have certainty that both time and energy have ensured my success.
RB: When you started in Hip Hop it was more of a Women's Lib movement, now some women use it to brag about brands and parade their sexuality how does that make you feel?
MC Lyte: Not all femcees glorify brands and their sexuality. However; most MCs in general glorify what they have instead of passing on a positive message to the next generation.
Lots of MCs speak the truth, but many of these rap soldiers are not on the frontline. I am cool with the diversity of hip hop because I am an artist. I don't confine myself to one segment of creativity. As a pioneer, I must be in tune to trends and what to listen to.  I strongly believe that maturity must set in to evoke positive messages.
Currently, I am listening to a Detroit femcee named Mae-Day. This artist is masterfully skilled, has great style, and evokes a message. I honestly believe that Detroit is one of the best kept secrets of talented female MCs.