Show Me The Butler!
Susie Stillwell | 10/10/2013, 11:52 a.m. | Updated on 10/10/2013, 11:52 a.m.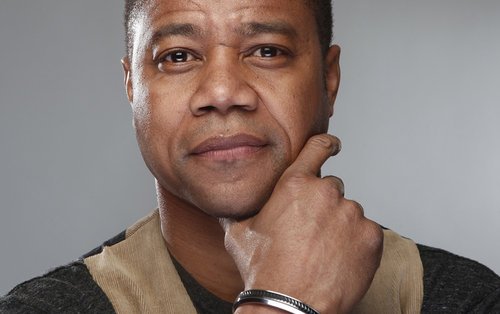 Cuba Gooding, Jr. was born in the Bronx on January 2, 1968, but raised in Los Angeles from the age of 4 on. Best known for his Oscar-winning portrayal of the charmingly-arrogant Rod "Show Me the Money!" Tidwell in Cameron Crowe's Jerry Maguire, he first found fame in 1991 when he received critical acclaim for his performance in John Singleton's coming-of-age classic Boyz n the Hood.
Cuba followed-up that success with roles in As Good as It Gets, What Dreams May Come, and the Oscar-nominated A Few Good Men. The versatile thespian's repertoire also includes roles in pictures ranging from Red Tails to Radio to Men of Honor to Pearl Harbor to American Gangster to Shadowboxer to Boat Trip to Snow Dogs to Norbit.
Among his upcoming big screen projects are Don Jon and the sequel Machete Kills. On television, he played the title character in the award-winning Gifted Hands: The Ben Carson Story, as well as in Firelight, the highest rated Hallmark Hall of Fame movie ever.
A decade ago, Cuba's extraordinary achievements were recognized when he was awarded with a star on the Hollywood Walk of Fame. Here, he talks about his work opposite Forest Whitaker and Oprah Winfrey in Lee Daniels' The Butler.
SUSIE STILLWELL/JUICY CULTURE: Hi Cuba, I appreciate the time.
Cuba Gooding Jr: Anytime, Sooz. How are ya?
SS/JC: Great, and you? I thought it was time for a revisit. We haven't talked for a long while...
CG: Very well, thank you.
SS/JC: so, let's jump right in. What interested you in The Butler?
CG: Well, to give you a little history, Lee Daniels and I had been friends even before he was a producer, manager or casting director. When he offered me the role of the shadowboxer in Shadowboxer, I was invited into the editing room. We've done this thing throughout his career from Precious on, where he sends me screenplays that he's considering. So, I feel like this is an invested relationship I have with him. He sent me this screenplay about five years ago, suggesting that I might be the butler.
SS/JC: Were you upset when you didn't land the title role?
CG: No, one thing led to another in casting choices, and now I couldn't imagine this movie without Forest Whitaker playing the lead and Oprah playing his wife. I think they're both deserving of Oscar nominations. Their relationship in the movie's so powerful, and so is Forest's with David Oyelowo's character.

SS/JC: You did a great job, too.
CG: Thanks. It just feels so good to be involved again with a movie that's socially relevant. I recently met a 27 year-old white male who admitted that he didn't know about the sit-ins until seeing this movie's scene with the kids being refused service in a segregated diner. And it hit me how we can so easily forget, because I'm in my forties. There's such a disconnect from the next generation in terms of all the brutality. That's why it feels good to be a part of this film which revisits that time period and talks about what transpired.