Terry McMillan Book Signing at the Ensemble Theatre
Demez White | 10/11/2013, 11:47 a.m.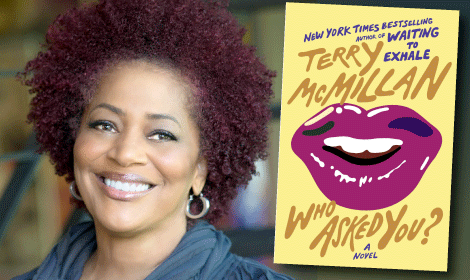 No one was tweeting, there were more anticipations and smiles then there were conversations. Most of the events I go to are sort of funny about starting times, meaning, they rarely start on time. That wasn't the case last night, at 7:00pm sharp with no decorations or music, no real introductions. Terry McMillan walked on stage with her new novel "Who Asked You?" in one hand and her glasses in the other and simply said.
"Those lights are way too bright cut them down. Is that a child, my writing really isn't for children."
The way she commands the room without trying comes natural for a woman that has been writing since she took her first creative writing class at Berkley. Putting on her glasses and reading from the thoughts of a seven year old boy she has the entire room laughing and interested. She's not trying too hard, simply reading.
Speaking from the mind of a seven year old boy she's doing more than just reading, she's gaining interest without giving away too much of the storyline, without reading from the minds of the main characters. Anyone listening either can't wait to buy the book or can't wait to go home and read it.
After twenty three minutes of reading she stops and smiles, looks out over the room of roughly 200 people. Mostly women, mostly over 40, all excited. "There are a lot of you but I'll stay as long as it takes to sign all your books."
She was asked by a young girl in the audience, maybe one of the only ones in the room. "What advice would you have for young writers?"
I can't speak for everyone else but I was expecting the standard, "Don't give up, keep pushing, follow your dreams."
As the young lady stood there, Terry looked over her glasses and said, "Most young writers want to have a bestselling book, make a lot of money and have that book turned into a movie. You have to love writing; you have to read a lot. Don't just read African American novels but read all novels, all races, all genres. Get better and expand your horizons. You have to decide is this really something you want to do."
Coming from a woman that knew she wanted to be a writer since her first creative writing class at UC Berkeley and writing editorials for the school newspaper the advice comes from real life experience.
Looking around, choosing another young person, this time a man. Maybe one of four in the room who asks, "I want to thank you for being professional on Twitter, do you think social media helps you sell books more than word of mouth?"
Fanning her hand across the room she smiles and thinks about the question for a minute. "I like Twitter more than Facebook because I can get my thoughts out so much quicker on Twitter. You can say a lot with 140 characters. Most of the women in this room are my age, my generation, they aren't here because of social media; they are here because they like to read. Maybe for the younger generation but for the majority of my fan base it's still word of mouth."
What's evident in how comfortable she is on stage is that she's been doing this for a long time. Talking about how much she misses her home, how she's been on the road since 9/11 people soak in every word.
"I wake up sometimes at five in the morning just to write. I'm excited about what the characters are going to say, what they're going to do because I don't know. For me at this point in my career, writing the story is the best part. Not the book cover, not the tours but the actual writing."
What I take away from the event and the moment is that even after bestsellers, after movies, after sitting down with Oprah and countless other TV personalities it's still all about the writing.
You can read more from Demez at www.demezw.com.