Family, friends recall Kendrick Johnson's strength, enthusiasm, charm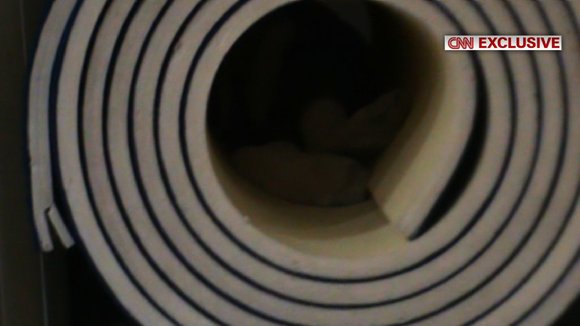 By Amanda Sloane
HLNtv.com
Loved ones remember Kendrick Johnson as a quiet boy who loved sports and had plans to go to college and play football after he graduated from high school. His family celebrated what would have been his 18th birthday Thursday with one person noticeably absent from the occasion -- Kendrick, whose life was cut short this year.
"I walked into his room and I kissed his picture and said, 'Happy birthday, Kendrick,' " said his father, Kenneth Johnson. "His dreams, memories, will always be with us. They will never leave."
The 17-year-old's body was found inside a wrestling mat in January at Lowndes County High School in Valdosta, Georgia. Investigators say he had crawled into the mat to retrieve a sneaker and accidentally suffocated. His parents, however, believe foul play was involved. They exhumed his body in June and had an independent autopsy performed, which concluded that the teen died as a result of an "unexplained, apparent non-accidental, blunt force trauma."
Kendrick, who was born on October 10, 1995, had a deep passion for sports. A sophomore, he ran track and was a member of the Lowndes County High School basketball and football teams. Kendrick had dreams of continuing his athletic career after graduation, said a friend who spoke with HLN affiliate WTXL at his funeral in January.
"It was just two weeks ago when we were all talking at McDonald's about what we were going to do when we grow up, and he was saying he wanted to go to college and play football," Mark Loveday told WTXL.
"Red and black -- those were his favorite colors," another friend, Kedrick Clemons, told WTXL in January. Many who attended the funeral honored Kendrick by wearing those two colors.
"He was just someone that every parent all over the world would want to have a son like Kendrick," Kenneth Johnson told CNN's Anderson Cooper on Friday. "Kendrick was a great boy. He had good manners. He never got in trouble -- not even once -- with the law. He just was a nice child. Everyone would like to have a son like Kendrick."
"He was fun, he was an athlete, he was a jokester, he was the life of our house," his mom, Jacquelyn Johnson, told CNN.
In a video posted to YouTube, a classmate describes seeing kids running at the school the day Kendrick's body was found.
"I just stood there. I didn't know to cry or be mad. It was like someone just slapped me in my face. It felt like I just got shot in my heart," the girl, who introduced herself as Amara, said in the video. "K.J. was a beautiful little ball of joy. He always had a smile on his face. He always made everyone smile. He never talked about anyone."
She went on to describe Kendrick as not "just any random person. K.J. was a best friend, a brother, a cousin, a son ... we're going to get justice for you, K.J."
His parents have echoed the sentiment, saying they won't give up on their youngest son until they find out what happened to him. On what would have been his 18th birthday, they asked the high school to give them a special gift: the surveillance video shot in the gym the day Kendrick died.
The local sheriff has told CNN that the case is closed, so the Johnson family says the next step to further the investigation of Kendrick's death is through a coroner's inquest. This process involves a panel reviewing evidence and testimony, then deciding on a cause of death. The family plans to file a lawsuit as early as this week to force the district attorney to order such an inquest.
"If it takes me until I die, I will fight until I die," Kenneth Johnson told CNN in September. In a separate interview, he said, "No matter who you are, how much money your parents have, the color of your skin, everyone deserves justice."