Houston Hispanic Chamber of Commerce Making a Better Houston
Jo-Carolyn Goode | 10/22/2013, 6:37 p.m. | Updated on 10/22/2013, 6:37 p.m.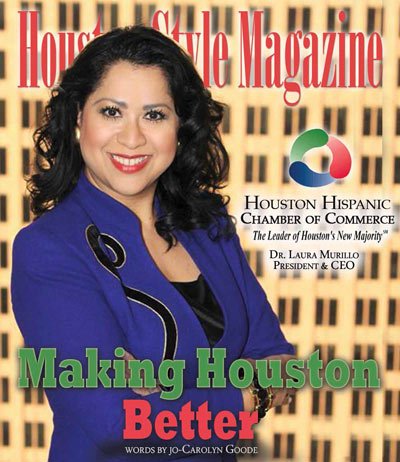 Just a quick Google search will show the power player that the Houston Hispanic Chamber of Commerce (HHCC) is at the bargaining table of business in Houston and abroad. At the helm of this organization for the past six years has been one woman, Dr. Laura Murillo. Although this savvy business lady solely holds the title of President and Chief Executive Officer of the HHCC she will readily tell you that the success of the chamber is not by her single hand alone but is due to a dynamic group that composes the HHCC's membership, staff, and board of directors.
Since 1977, the HHCC is the largest chamber in the country that is of Hispanic membership with the purpose of serving as an advocate for the business community. Now boasting a membership of 4,000, the chamber has pride in the diversity of its membership and board of directors. "Houston is a reality of changing demographics and fortunately we are in a region and a city that embraces diversity. Our chamber has really taken advantage of that opportunity by integrating many ideas and cultures and really finding a way to work together," said Dr. Murillo, who remarked that diversity is why Houston as a city is so successful.
As the chamber stretches its reach to make a greater impact, its members are expanding their own portfolios by not just being players on a business team but serving as captain of their own team in the form of CEO. Latina women are among the fastest growing group of new entrepreneurs. The chamber is supporting this growth with a program called the Latina Roundtable. "We try to target specifically female entrepreneurs or women who have been very successful, Latina or not, " said Dr. Murillo. And with the voices of these influential women decisions are being made as it relates to women's spending habits and what is going on within the family. Making it easier for corporate sponsors to communicate with this particular audience. "With everything we do is a conscience effort to make sure that women are represented in what has traditionally been a male dominate area but also that we are represented on different boards and commissions throughout the city not just the Hispanic Chamber of Commerce Board. That we open doors and open opportunities for our community to have a voice."
From giving women a voice to securing the success of the next generation, with what Dr. Murillo calls her most important work, the chamber's Emerging Young Leaders Institute teaches young people under forty years of age with less than eight years of work experience or who are juniors or seniors in college the ways of the business world. "We have many dynamic leaders in the city of Houston but part our responsibility is making sure that we are fostering that next generation of Houston leaders and I am confident that our Mayor, our elected officials, our board members come from this group of our Emerging Young Leaders," said Dr. Murillo.