METRO Tops 80 Million Boardings in FY13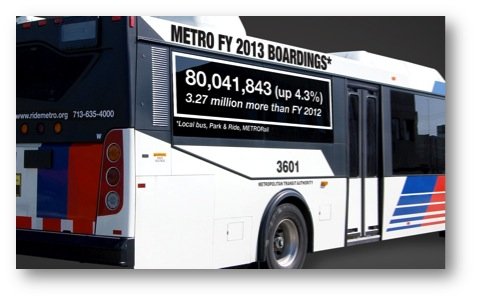 The New METRO closed out fiscal year 2013 (Oct 2012-Sept 2013) with more than 80 million boardings recorded for the first time in four years. Ridership, system-wide, had lagged behind the 80 million mark since FY2009 when 84,408,919 trips were recorded.
METRO Board Chairman Gilbert Garcia made the announcement at the Greater Houston Partnership's annual State of METRO luncheon while highlighting the Authority's achievements and focus on the future.
"We want everyone to know about METRO's four "R's" as we; RECAP our success in the areas of greater transparency and improved financials, voter approval of the 2012 GMP REFERENDUM, increased RIDERSHIP and RAIL expansion," said Garcia.
Among the New METRO board's priorities is building ridership and improving the customer experience. "This increase in boardings reflects a lot of hard work by staff to ensure every trip our riders make is a great one, and one they'll make again. We project this upward trend will continue with initiatives we're rolling out to the public," said Garcia.
METRO Interim President & CEO Tom Lambert also spoke to the crowd about those core initiatives that will help drive ridership. "We are focused on the back to basics approach of providing key services to the community, like the return of the Day Pass."
Riders are thrilled with the return of the METRO Day Pass. It offers customers the opportunity to ride local bus and rail as many times as they'd like for just $3 per day. Click here for more.
Articulated buses are also back as of September. The 62-foot long buses carry more passengers and are now in service on routes with high ridership demand. Twenty-one of the 70 vehicles ordered are already in service. METRO is also busy reimagining its bus network with the help from stakeholders, transit experts and riders with the mission of making the transit system easier to use.
And, the Authority will close out 2013 with the launch of the North (Red) Line extension, expanding the existing Main Street Line by 5.3 miles. The Southeast (Purple) and East End (Green) lines are expected to open in 2014.