Psi Mu Omega Chapter Hosts Ms. America® Chiniqua Pettaway at Seminar for Emerging Young Leaders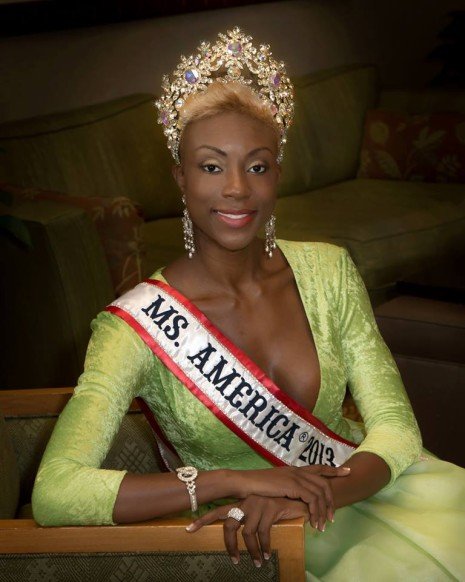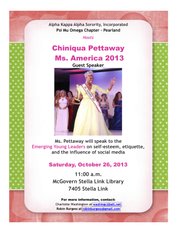 Psi Mu Omega Chapter of Alpha Kappa Alpha Sorority, Incorporated will present a seminar for its Emerging Young Leaders on Saturday, October 26, 2013, at 11:00 a.m. at the McGovern Stella Link Library located at 7450 Stella Link. The Emerging Young Leaders is the Sorority's International Program established to teach girls in grades six through eight about academic preparation, leadership development, character building, and civic engagement. The guest speaker for the seminar will be Chiniqua Pettaway, Ms. America® 2013. Free and open to the public, the seminar will highlight such topics as self-esteem, etiquette, and the influence of social media.
Ms. Pettaway, a Houston, Texas transplant, is originally from Richmond, Virginia. She is an entrepreneur, model, fitness instructor and community leader. Chiniqua owns and operates six income tax preparation offices in Houston, TX. Chiniqua is currently working on her master's degree in Industrial Organizational Psychology, and will complete her degree from Argosy University in March 2014. A philanthropist, Ms. America® 2013 is especially passionate about her platform of service "Guard a Heart" a heart health awareness foundation. Guard a Heart's mission is to fight heart disease with their campaign, "Know your Risk, Save a Life." Heart conditions are the number-one killer of men and women in America. Chiniqua enjoys traveling, dancing and mentoring young women through her platform and other community involvement.
About Psi Mu Omega: Psi Mu Omega Chapter was chartered March 19, 2011, in Pearland, Texas with the distinct purpose of providing community service to Pearland and Brazoria County communities. Since its inception, the chapter has worked diligently to impact Pearland and other communities. The chapter has provided financial support to the Sisters Network, United Negro College Fund, and the Susan Komen Breast Cancer initiative, the American Heart Association, American Diabetes Association, and the Aids Coalition of Coastal Texas. Chapter members have served as volunteers for the Adult Reading Center, Action, Inc., and Christian Helping Hands. The Chapter provided books to start a library at Dress for Success, donated school supplies to needy children in the Pearland, held a Workshop on Estate Planning, sponsored a seminar on finances, delivered rice to the Cambodian Village in Angleton, Texas, held two voting registration drives, and donated books and Teddy bears for children in the care of the Brazoria County Child Protective Services.
About Alpha Kappa Alpha Sorority, Incorporated: Alpha Kappa Alpha Sorority, Inc., founded in 1908 at Howard University, is comprised of 260,000 members in over 900 graduate and undergraduate chapters in the United States, Virgin Islands, the Caribbean, Canada, Japan, Germany, Korea, and on the continent of Africa. The Sorority seeks to create awareness of issues that impede academic, social, and economic progress, and through advocacy and service, is dedicated to promoting global peace and improving the quality of life for citizens worldwide.