Glenfiddich Releases Exclusive Age Of Discovery Bourbon Cask
Bourbon Matured Limited Edition Bottle Honors Synergy Between American and Scotch Whisky Industries
Style Magazine Newswire | 10/29/2013, 11:41 a.m. | Updated on 10/29/2013, 11:41 a.m.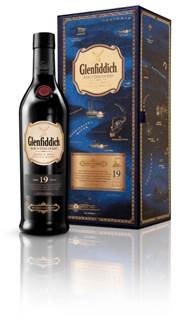 This fall, Glenfiddich, the world's most awarded Single Malt Scotch Whisky, will launch the Age of Discovery Bourbon Cask Reserve, celebrating the intrepid journeys of the most determined pioneers. This release is a toast to the American bourbon industry, which has provided barrels to Scotch distilleries for maturing their whiskies.
The Bourbon Cask Reserve is exclusively aged for 19 years in American oak casks – casks that once traveled great American rivers and now serve as the inspiration for this limited edition release. Some of these rivers – the Missouri, Illinois, Arkansas and Ohio – all flow into the most famous and important waterway of America's South: The Mississippi. These were the roads along which hundreds of people traveled over history, ultimately cultivating the land, bringing commerce and industry to the areas around which the cities of the South arose. As the cities grew, so did the American whiskey distilling industry, which used local grains to produce their own distinctive whiskeys most notably bourbon and rye whisky. For many years, these spirits mellowed in barrels as they were carried down the Mississippi River on the great paddle steamers of the 19th century to the bustling port of New Orleans to be bottled and shipped to their final destination. Since bourbon can only be aged in new white oak barrels, these empty casks were and still are shipped across the Atlantic to Scotland where distilleries such as Glenfiddich use them to mature Scotch whisky.
"We were inspired by the journey that takes bourbon barrels from U.S. whiskey distilleries to the Glenfiddich distillery and as a result, this rich, single malt Scotch whisky is 100% bourbon cask matured and is the first time we have used bourbon barrels to fully age a whisky," said Glenfiddich Malt Master, Brian Kinsman. "This release celebrates the adventurous spirit we share with intrepid explorers, starting with our founder, William Grant, who set out on his own journey to fulfil a lifelong ambition of creating the best dram in the valley."
Kinsman continued, "Aging this single malt entirely in a bourbon cask has created a spirit that has a balance of spicy sweetness tempered by rich, dried fruit flavors. Its nose consists of toffee and deep citrus notes, balanced by dry, faint smoky notes of oak. The taste is complex and layered with vanilla, fine leather and tobacco, which develops a sweet, velvety mouth feel enhanced by spicy hints of cardamom and nutmeg, which fade slowly into a warm and long finish."
The Age of Discovery Glenfiddich Bourbon Cask Reserve's distinctive packaging is adorned with striking illustrations that represent the meandering Mississippi River with each panel displaying a landmark along the casks' expedition from America to Scotland. The deep blue box and the black glass bottle, embellished with a red cartouche compass, reflects the richness and exclusivity of the single malt whisky that is the reward of the long journey, making it an ideal gift for the adventurous and discerning drinker.
The 2013 Age of Discovery Bourbon Cask Reserve (ABV 40%) will be available nationally this fall with a recommended retail price of $149.99.