A Piece of Heaven in Midtown
MiMi LaRue | 9/2/2013, 7:37 a.m.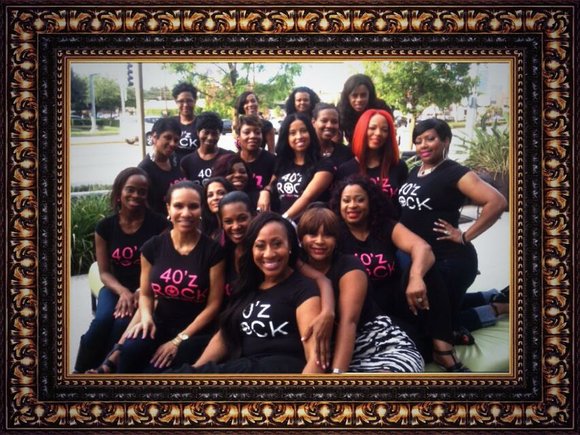 The ladies of 40'z Rock recently spent a Saturday afternoon of relaxation tucked away in Midtown's hidden gem, The Woman's Earth Nurturing Studio. I would have never expected this sanctuary to be located in the mostly residential area but after walking through the gated entry, the zen-like music and aromatherapy subtly pushed me into a serene state of mind where all worries were released. The owner, Jenee Pierre, greeted me with the warmth of familiar friends as she encouraged us to enjoy the vegan bites and wine. I didn't realize how famished I was until I bit into the collard green wrap prepared with raspberry chutney. It was truly food porn heaven!!
I was so focused on eating my wrap that I almost missed the announcement for us to join Jenee in the mediation room. On the third floor is where the action begins. After sinking into my pillow and assuming the yoga position, this nook is the kind of place that makes you want to linger and not rush away to the chaos of life. Jenee's soothing voice guided each of us to a state of mediation and as much as my mind was in overdrive, I followed her direction of a 6 count beat and drifted off to sleep. Upon awakening in a refreshed state, I was ready to conquer the rest of my afternoon.
The next phase of my stay was a brief massage provided by Victoria Stroman. What impressed me the most about her technique was that she knew exactly what my body needed and it responded. She applied pressure to all the areas of my shoulders and back that were tight due to my daily workouts. After I emerged from my massage, I had the glow of a frisky afternoon well spent.
During the visit, Jenee discussed the many upcoming events and services offered, such as yoga classes, body wraps, and facials. If a girls getaway or couples retreat is on your list of things to do, then The Woman's Earth Nurturing Studio should no longer be kept a secret. With a full kitchen available and catering as an option, Jenee will accommodate just about any detail that a guest can dream up. This is exactly what I needed to keep me dripping sexy!
For more information on how to keep your life dripping sexy, follow MiMi on Twitter @dripping_sexy and 'like' her Dripping Sexy page on Facebook.