Crystle Stewart Gets the Surprise Proposal of a Lifetime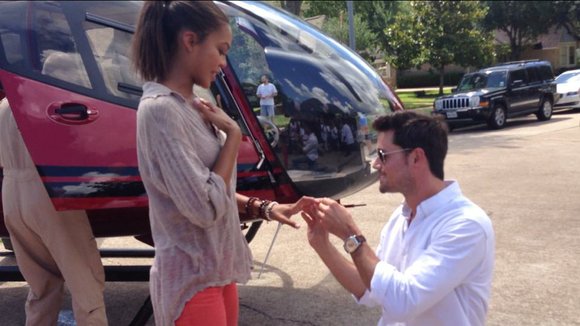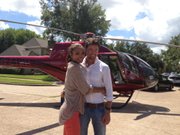 Hollywood could not have written it any better? Max Sebrechts pulled out a blockbuster style wedding proposal for his soon-to-be bride Crystle Stewart this past Labor Day.
Max took Crystle and her little sister Breana on a special helicopter ride around the city for what Crystle thought was a surprise for Breana. Flying around the unknowing Crystle texted her mom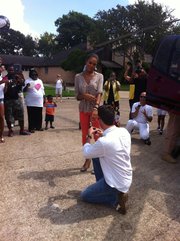 about the ride and told her to come outside because they were going to fly over her parents' Missouri City home. Little did Crystle know that not only would her mom wave hello to her from the ground below but so would a host of family, friends, and neighbors. When the helicopter touched down in front of her parents' home the look of clear shock was apparent on Crystle's face. "What's going on? Why is everyone here?" Crystle asked. Everyone yelled, "Max, why are we here?" By then Crystle had caught on when she saw family holding posters that said "say yes" and t-shirts that said, "true love is Crystle clear." Max didn't keep Crystle waiting any longer. Smiling from ear-to-ear Max got down on one knee to ask Crystle, " Would you marry me?" She jokingly replied, "Let me think about it," and turned to her best friend for approval of the ring choice by Max. Following that playful gesture Crystle said yes and scooped up her sweetheart in a bear-size hug to plant a huge kiss on him.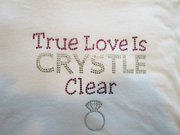 Still stunned at how so many people kept the secret from her Crystle continue to ask, "How did you all keep this from me?" Max looked so relieve that his plan, that was months in the making, came off without a hitch and without Crystle knowing. "I have been nervous for months," Max said.
Crystle is native of Missouri City and came into the national spotlight when she crowned Miss USA 2008. The model and actress is now best known as Leslie from Tyler Perry's For Better or Worse television series. Her handsome fiancé is a Belgian-born international model. The couple has dated for the past three years. No wedding date has been set.