Shemar Moore is "Shemar-velous"
Susie Stillwell | 9/3/2013, 11:20 a.m. | Updated on 9/3/2013, 11:20 a.m.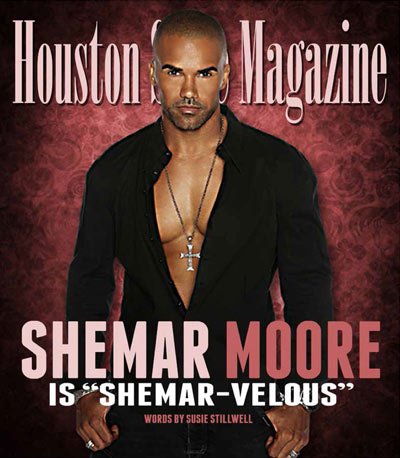 Actor Shemar Moore had an eight-year run as Malcolm Winters on the popular daytime soap opera The Young and the Restless, as well as a supporting role in the feature film Diary of a Mad Black Woman. Today, he stars on the CBS drama Criminal Minds as FBI Special Agent Derek Morgan. When he's not enforcing the law on the small screen, Moore bikes to raise awareness of multiple sclerosis, a disease that hits him close to home.
Houston Style Magazine's Susie Stillwell and Juicy Culture sat down with Moore for a chat.
SS/JC: I like to jump right in Shemar so here goes…..I understand you enjoy doing a little boxing.
Shemar Moore: Yeah. I haven't done it lately, but I did it off and on for quite awhile. I love it. I can hit the stuffing out of the bags, because they don't hit back, you know? It was just a cool way to handle cardio. But now I've gotten more into cycling, because I ride for my mother, who has MS. So I've done a hundred-mile fundraising bike ride with a bunch of guys I work with at Criminal Minds.
SS/JC: So you stay pretty active, then.
Moore: Sure. The only sport I'm not all that good at, which I shouldn't admit, is basketball. I guess I've got white man's disease because I'm half white.
SS/JC: You can't jump?
Moore: Oh, I can jump, I just don't have much of a left hand. I can play a mean game of horse, though. But no, I've done every kind of sport. I love that stuff. Before Hollywood, I thought I was going to be a baseball player.
Then I got into cycling, just because I was doing mountain bike stuff, and I met some guys at the show and they told me I had a sissy bike. So now I've got a new bike and the whole kit. You've got to look fancy, right? As long as you're connected to your bike, you look really cool, but if you're not connected to your bike, you just look like a man in tights, which is not very cool.
SS/JC: Lance Armstrong was doing the Tour de Ireland, what are your thoughts on Lance?
Moore: I guess the guys I work with are like a level below Lance Armstrong. They do semi-pro racing and all that. Me, I've just got the fancy tights. I've got the fancy all-carbon-fiber bike. I look the part, but I'm just an actor riding a bike. So I act like I can ride.
But, yeah, I guess I really try to do a little of everything. Athletics has been a way of life for me. Working out in a gym gets old after while, so you've got to mix it up. I go and I do the sand dunes. I do the Santa Monica stairs. I ride my bike. I box.
SS/JC: The sand dunes? Does that mean you run the sand dunes?
Moore: Yeah. It's like 100 yards straight up. A lot of the football players train out there, some of the basketball players. I think Kobe Bryant gets out there with his trainer and does it. But yeah, I just love the hot weather and I love exercise, so I keep it together. A good black man don't crack. But I'm getting older, so it's not as easy anymore. Running takes its toll.