Sofia Vergara is the top-earning actress on television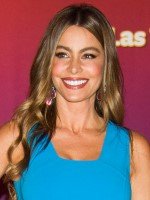 According to an article on tv.msn.com Sofia Vergara, the buxom breakout star of ABC's "Modern Family," is the top-earning actress on television according to the rankings of the 14th annual Celebrity 100 for the second year running. As the reigning queen of celebrity endorsement deals (thanks largely to her bilingual portfolio), Vergara's earnings over the past year reached $30 million -- making her far and away the highest-paid actress in prime time.
The Forbes Celebrity 100 list looks at the earnings of American celebrities during a specific time period -- this year June 2012 through June 2013 -- and counts cash only for projects completed and contracts made good during that time. This breakaway list tallies the take-home of the talented women of prime time, and includes not just their work on TV projects, but also the oh-so-lucrative endorsement and licensing deals that have come as a result. All told, the 20 top-paid TV actresses earned a cumulative $183 million.