Baby Jay Motivating HCC Students to "Go Get It"
Jo-Carolyn Goode | 9/10/2013, 11:49 a.m. | Updated on 9/10/2013, 11:49 a.m.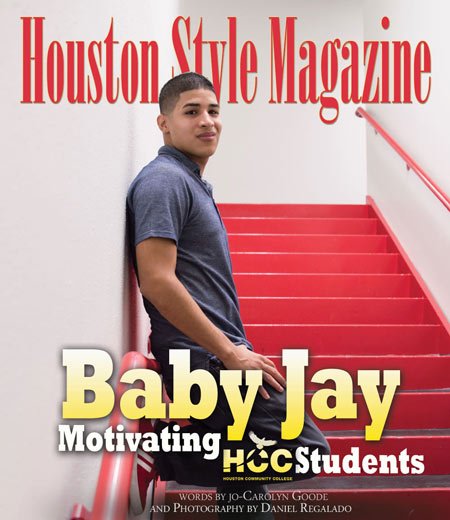 Going to school can be challenging for students when trying to balance coursework, a job, school activities, and time with family and friends. It is a real sink or swim type of situation. Oftentimes to push through all those circumstances students just need to know that someone is in their corner and believes they can achieve their goals. Houston Community College (HCC) understands the struggles that some of their students have and are sensitive to the needs of its students. Already having so many things in place to support students, HCC decided to give students some extra encouragement this year with a new partnership with someone who has been there and is doing that.
In assembly with students, faculty and staff at HCC's Coleman campus the message for the new school year was "Go Get It." Call it the new theme for HCC this year as they are empowering their students to not let anything stand in their way of getting a solid education. This message comes as a result of a new partnership with Houston hip-hop artist Baby Jay. "Go Get It" is the title of his new song that he debuted for HCC's new student-centered marketing campaign. "We love the fact that HCC had a vision with us. They saw that this song could go to the next level," said Baby Jay about his new partnership with HCC.
The collaboration with Baby Jay is all part of HCC's recruitment, retention and completion campaign. HCC knows that they key to a successful future is a good education and the new campaign highlights this fact. Focused on students completing coursework and graduating, HCC is giving students the opportunity to take advantage of their numerous programs and courses that lead to careers that pay well and are in high demand. Baby Jay is adding to that message with original songs that echo that message of staying in school until graduation.
Baby Jay's music can already be heard in several HCC commercials. He is giving a positive message to motivate students to keep striving towards their goals, a message that he uses to motivate himself as well. Like many students attending HCC, Baby Jay is a first generation college student and he faces many of the same day-to-day struggles that the current student body tackles. His struggle to succeed despite his circumstances is what caught the eye of HCC's Chief Communications Officer Dan Arguijo, Jr. "I saw in Baby Jay a person who could tell our story better than we could. There is a certain generation that listens to their generation and this young man has the voice of the generation," said Arguijo. "He really mirrors what our students are all about."
Born Jonathan Gutierrez, Baby Jay has been delivering words that empower since the age of 5. First gaining a love for the art form while watching his older brothers. He continued the craft as a way to release and express himself as he went through his own obstacles of divorced parents and dodging drug use, gangs, and jail that his older brothers succumb to. With goal of always making his parents and himself proud, he serves as role model to his soon-to-graduate younger sister, older brothers, and countless others who never thought could overcome the odds.
"I always wanted to make a difference," Baby Jay. What a difference he is making. Traveling to schools around the country, Baby Jay is decreasing the violence that plagues school by addressing the issue of bullying, increasing student attendance, and raising the level of respect students have for each other. "What I am doing is not just making a difference in the lives of students but it is making the school a better environment."
This school year the message is clear. Whatever it takes, whatever needs to be done, just do it and "Go Get It."