Houston Shoe Hospital Launches PinkHeels™ to Support Cancer Research at MD Anderson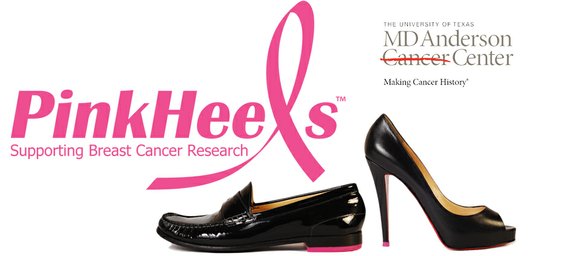 Houston Shoe Hospital is pleased to introduce PinkHeels™, a line of custom-fit pink heels that can be placed on any pair of shoes or boots, both women's and men's, to show solidarity in the fight against breast cancer. Houston Shoe Hospitals are donating 100% of the net proceeds from every purchase of PinkHeels directly to the MD Anderson Cancer Research Center at the University of Texas to aid in research, patient care, and prevention of breast cancer and other cancers affecting both women and men.
According to Steve Kelly, President of the Houston Shoe Hospital, "We know well the devastation of cancer, and our team at Houston Shoe Hospital is deeply passionate about supporting research initiatives aimed at its treatment and prevention. Our one-of-a-kind pink heel is a subtle and powerful way for both women and men to show their commitment to fighting cancer. We are very proud of our partnership with MD Anderson, and hope our PinkHeels will cause a ripple effect, inspiring others to join in the efforts to beat cancer."
PinkHeels can be purchased at Houston Shoe Hospital retail locations, where expert shoe craftsmen will custom fit and apply them to virtually any stiletto, flat, wedge, dress shoe, or boot. Pink supporters wanting to go one step further can add matching PinkSoles™ for an even bigger pink statement.
Donations from the sale of PinkHeels will benefit many programs at the MD Anderson Cancer Research Center, whose mission is "to eliminate cancer in Texas, the nation, and the world through outstanding programs that integrate patient care, research and prevention, and through education for undergraduate and graduate students, trainees, professionals, employees and the public." Every dollar will make a significant impact in the lives of cancer patients and their families.
"Wearing PinkHeels makes a statement that we are not going to give up in our fight against cancer," says
Stephen Kelly, Director of Marketing. "Wear them during breast cancer awareness month in October, or better yet, wear them year-round. Let people ask you why and answer them with pride! Let's take a stand for our lost and ailing loved ones and keep the support for cancer research growing by educating our friends, colleagues, and strangers that the fight is not over… all by simply showing a hint of pink on our shoes, either for a moment or for a lifetime."
To have PinkHeels and/or PinkSoles custom-fit to a favorite pair of shoes from anywhere in the United States, go to www.heels4charity.com. For those living in Texas, PinkHeels can be purchased at local Houston Shoe Hospitals, Austin Shoe Hospitals, or Cobblestone Shoe Hospital locations.
About MD Anderson
The University of Texas MD Anderson Cancer Center in Houston ranks as one of the world's most respected centers focused on cancer patient care, research, education and prevention. MD Anderson is one of only 41 comprehensive cancer centers designated by the National Cancer Institute (NCI). For nine of the past 11 years, including 2012, MD Anderson has ranked No. 1 in cancer care in "Best Hospitals," a survey published annually in U.S. News World Report. MD Anderson receives a cancer center support grant from the NCI of the National Institutes of Health (P30 CA016672).
About Houston Shoe Hospital
Houston Shoe Hospital, founded in 1906, is the parent of the world's largest shoe-repair company. With 31 retail locations throughout Texas and a nationwide online repair service, MYSHOEHOSPITAL.com, Houston Shoe Hospital offers world-class shoe, boot, and handbag repair services. Using the highest quality materials and the most advanced machinery, Houston Shoe Hospital provides a wide variety of services ranging from shoe and boot repair, custom dye-to-match services, wedding dyeing, suede cleaning, and designer handbag and belt repair. They also offer a vast collection of hard to find shoe care products and accessories, including polishes, insoles, and cleaners. For more information, visit www.houstonshoehospital.com http://www.houstonshoehospital.com . For more information about online repair services, visit http://www.MYSHOEHOSPITAL.com .