Terry Crews Gets Animated in New Film
Jo-Carolyn Goode | 9/19/2013, 9:36 p.m. | Updated on 9/19/2013, 9:36 p.m.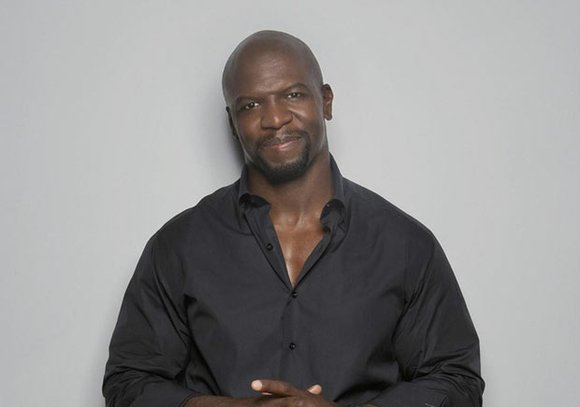 Animation today is not just for kids. One really has to put on their glasses and read the fine print to see if the program is kid appropriate. I find that strange because in my humble opinion I believe animation should be a strictly kid friendly domain. I am happy to know that I am not alone in my thinking. Actor Terry Crews has similar thoughts. It is for his "keep it for the family" mentality that he took on his latest film Cloudy with a Chance for Meatballs 2.
"A lot of guys grew up and they try to grow the animation up but it still attracts kids," said Crews in reference to why he likes animation that is geared toward the younger audience. "You have to be careful in what line you cross." Crossing lines is not Crews' thing and neither is it for Officer Earl Devereaux, the tough guy cop that Crews lends his voice to in Cloudy with a Chance for Meatballs 2. Officer Earl will stop at nothing but a yellow police line in protecting his friends and saving his beloved hometown of Swallow Falls. And he has got his work cut out for him in the sequel to this fun loving film.
Cloudy with a Chance for Meatballs 2 picks up right where the first film left off. Don't worry if you have not seen the first film. It is not necessary to see to understand everything in the second film, at least it wasn't for me. Once again Swallow Falls in danger at the hands of food. Inventor Flint Lockwood and his friends are forced to leave Swallow Falls after the town is destroyed by a food storm created by one of Flint's inventions. While most residents leave so Live Corp, the company tasked with cleaning up Swallow Falls, Flint follows his dreams to work at Live Corp along side his idol Chester V. The plot of the film thickens when it is reveled why Chester V offered Flint such a tempting invitation that ultimately puts Flint, his friends, and the fate of Swallow Falls in grave danger. Will Flint, his friends and Swallow Falls survive the evil plans of Chester V and Live Corp? Aww I am not going to ruin the ending. Just make sure to be in theaters on September 27 when "Cloudy with a Chance for Meatballs 2" opens to know the answers for yourself.
I love this film because not only is it animated, it is animated in 3D, which makes for an even better viewing experience. I felt like I was part of all the action the characters where going through. Plus I loved the story of friendship and the value each one played in the others' life.
Being in an animated is stretch in a different direction for Crews. However, it is a stretch that he personally requested. Understanding the explosion of the animation movement, Crews said that he recognizes that animation is not going anywhere. Plus, he considers himself a big kid at heart and this allows his to express his inner child.