Helping Homeless Kids Put Their Best Foot Forward
Style Magazine Newswire | 9/27/2013, 6:30 p.m. | Updated on 9/27/2013, 5:24 p.m.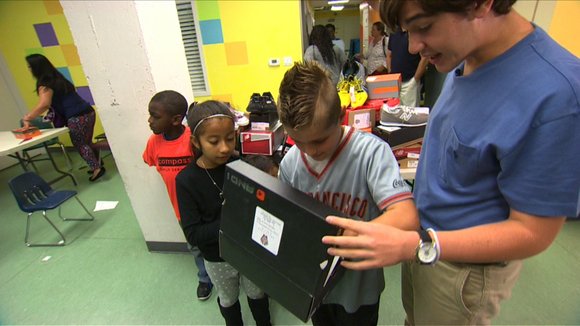 By Laura Klairmont
CNN
At a young age, Nicholas Lowinger learned not to take things for granted.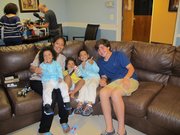 He was 5 years old and visiting a homeless shelter with his mother, who works in various shelters across Rhode Island. He was excited for the opportunity to show off his new light-up sneakers to the rest of the kids. But his mom cautioned him against doing so, explaining that these children might not have such luxuries.
Sure enough, when Nicholas met kids at the shelter, he quickly realized that they were living in circumstances that were very different from his own.
"I saw other kids my age who looked just like me. The only difference was, they were wearing old, tattered shoes that were falling apart. Some didn't have a pair of shoes to call their own," said Nicholas, now 15. "I've been very fortunate to grow up in a family that is able to provide me with whatever I need. A lot of kids here in the U.S. don't have the same opportunities."
There were 1.6 million homeless children across the United States in 2010, according to a report from the National Center on Family Homelessness (PDF). With no permanent place to live, many stay on the streets or in shelters, motels, cars and abandoned buildings.
"Homeless children, they shouldn't have to worry about how they'll be accepted or how they'll fit in," Nicholas said. "They shouldn't have to worry about not being able to play sports or go to school because they don't have a pair of shoes."
That first shelter visit left a strong impression on Nicholas, who started donating all the shoes he'd outgrown to local shelters. But he quickly realized that his donations, while well-intentioned, weren't that helpful.
"It bothered me that I only had used shoes to give to them instead of new shoes that fit right," he said. "No two people's feet are identical, and if you are wearing someone else's worn shoes, your feet aren't going to be very comfortable."
So in 2010, at the age of 12, Nicholas started a program that donates new shoes to homeless children.
At first, his efforts were part of a community service project leading up to his bar mitzvah, a Jewish coming-of-age ceremony. But he wanted to ensure that the work would continue after the ceremony.
"I didn't want to make one donation and stop there," he said. "I wanted it to be something I could do for the rest of my life."
With the help of his parents, he then started the Gotta Have Sole Foundation. Since 2010, the organization has donated new footwear to more than 10,000 homeless children in 21 states.
"By giving new footwear to homeless children, I'm making sure them and their families have at least one less thing to worry about," Nicholas said. "I'm also allowing parents to save money for an apartment or food for their next meal."