Pelvic Cancer Study Focuses on More Effective Treatment Options
Style Magazine Newswire | 9/27/2013, 4:46 p.m. | Updated on 9/27/2013, 4:46 p.m.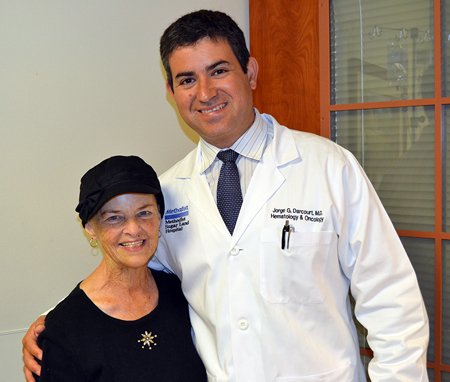 A trip to Houston Methodist Sugar Land Hospital's emergency room for a swollen leg uncovered a major surprise for Pauline Stevens - a pelvic tumor about the size of a soccer ball.
The mass was determined to be cancerous, and it had spread from Stevens' uterus to her ovaries. Jorge Darcourt, M.D., hematologist/oncologist and director of the Houston Methodist Sugar Land Hospital infusion center, diagnosed Stevens with endometrial cancer.
Aparna Kamat, M.D., director of gynecologic oncology at Houston Methodist Hospital, performed surgery to remove the tumor. Following surgery, Stevens, 75, volunteered to be the first patient for an endometrial cancer study sponsored by the Gynecologic Oncology Group. Houston Methodist Hospital and Houston Methodist Sugar Land Hospital offer this trial. Study results will help determine the most effective treatment options with the least side effects for this group of patients.
The randomized phase III trial compares two treatment regimens in patients with advanced stage endometrial cancer. The investigational treatment combines chemotherapy (cisplatin) with radiation therapy, followed by additional chemotherapy (carboplatin and paclitaxel) for four cycles. The standard treatment is carboplatin and paclitaxel for six cycles without radiation therapy.
"We still have no standard treatment for patients with high-grade endometrial cancers, like Mrs. Stevens' case, so this study will help us determine the best course of adjuvant therapy following surgery," said Kamat, site principal investigator. "We use a combination of chemotherapy drugs because each works in different ways to stop the growth of tumor cells, either by killing the cells or by preventing them from dividing. This study will help us determine if radiation therapy offers more benefit for these patients in addition to chemotherapy."
Stevens is part of the investigational arm of the study. She had her radiation therapy treatment at Houston Methodist Hospital in the Texas Medical Center, and her chemotherapy treatments are underway at Houston Methodist Sugar Land Hospital with Darcourt. After chemotherapy ends in October, Kamat and Darcourt will follow Stevens' progress for at least another five years.
Endometrial cancer starts in the inner lining of the uterus and is the most common gynecologic malignancy in the United States. Approximately 42,000 new cases are diagnosed every year in the United States. Although the exact cause of endometrial cancer is unknown, increased levels of estrogen appear to play a role, and obesity is the single highest risk factor. Most women with endometrial cancer whose cancer has spread outside the uterus generally receive chemotherapy alone or in combination with radiation. Currently, clinicians and researchers are trying to determine the most effective treatment plan for these patients, both in terms of outcomes as well as the side effects associated with therapy.
Houston Methodist is part of this clinical study along with 350 locations in the United States, Canada and South Korea. The Gynecologic Oncology Group is an organization dedicated to clinical research in the field of gynecologic cancer. It is funded by the National Cancer Institute (NCI).
For more information or to make an appointment with Darcourt call 281-276-5200 or visit methodistsugarlanddocs.com.