HBREA Hosts 4th Annual Home Buying and Lifestyle Expo
Continue Their Outreach to Even the Playing Field for Potential Homebuyers
Style Magazine Newswire | 4/1/2014, 11:40 a.m. | Updated on 4/1/2014, 11:40 a.m.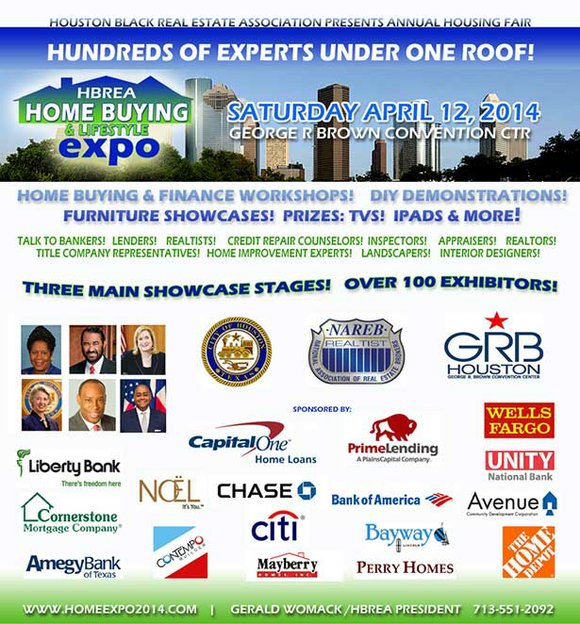 The Houston Black Real Estate Association (HBREA), in keeping with their ongoing commitment to serve the underserved community, will host their 4th Annual "Home Buying Lifestyle Expo" on Saturday, April 12, 2014. HBREA is the local chapter of the National Association of Real Estate Brokers (NAREB ) which was founded in 1947 and is the oldest and largest minority trade association in America. The Houston chapter was founded in 1949 and has been instrumental in being pro-active in serving all citizens who have the right to equal housing opportunities regardless of race, creed or color.
HBREA was founded by eleven progressive real estate brokers who were faced with the dilemma of discriminatory real estate practices and deemed it necessary to form an entity that could ensure not only democracy in the real estate industry but also in housing opportunities. The Founding Members of HREA who were also pioneers in the industry included: J. W. Hubert, J. E. Robinson, J. W. Robinson, Sr., E.J. Hardy, W. O. Bonner, W. W. Robinson, E. S. McCullough, O. J. Polk. Garfield Clark, Roscoe Cavitt and S. D. Jones. The Association effectively executes its mission by bringing together minority professionals in the real estate industry to promote the meaningful exchange of ideas about the business and how to best serve the community.

The Home Buying Lifestyle Expo will be held on Saturday April 12, 2014 at the George R. Brown Convention Center, 10:00 AM till 4:00 PM and is open to the public, admission is free of charge. Exciting all day home buying finance classes conducted by housing and financial industry professionals will be held as well as workshops on Interior Design, Do-it-Yourself home improvement tips, as well as credit repair counseling; there will also be a "Treasure Chest" of prizes and give aways and much more. HBREA is pleased to announce that they will offer three $3,000 payments to first-time buyers for down payment assistance by way of the Houston Area Urban Community Development Corp. (HAUCDC) which provides grants for qualified homeowners.
Gerald Womack, President of HBREA says, "Our history tells us that in 1947 a group of visionaries gave birth to this organization encouraged by the prospect of progress through organizing, and immediately launching an educational program to open the door to others interested in the real estate industry. If our future is to be guaranteed, we must serve our communities with integrity, trust and truth. I am ready to roll up my sleeves to ensure that we never lose sight of our founding principles, providing democracy in housing!"
This year's event is a collaborative effort with several agencies and participants providing comprehensive services and information to attendees in one setting.. HBREA has garnered broad-based corporate support which includes: Title Sponsor, Capital One Bank; Major Sponsors include Bank of America, Chase Bank, Wells Fargo Bank, Prime Lending, Noel Furniture, Radio One- (KMJQ, 92.1 FM Stations) and the City of Houston (see attached listing of sponsors & participants). Representatives from the Harris County Appraisal District and the Houston Housing Finance Corporation will also be available for information and inquiries as well.
The public is encouraged to attend and participate in this community event.