John Singer Sargent: The Watercolors Programs and Activities at the Museum of Fine Arts, Houston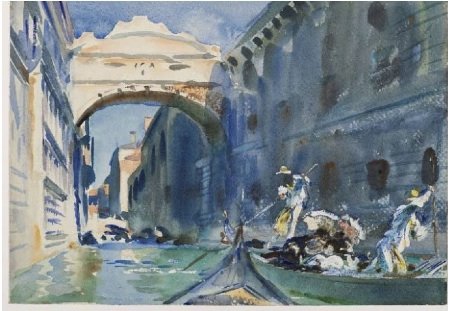 John Singer Sargent: The Watercolors offers a once-in-a- generation opportunity to see 100 watercolors by Gilded Age American master John Singer Sargent (1856–1925). The Museum of Fine Arts, Houston, celebrates the exhibition with a lineup of activities for all ages, including talks and tours, after-hours events and art-making programs for adults and children. The exhibition, which has already been seen to great acclaim at the Brooklyn Museum, New York, and the Museum of Fine Arts, Boston, makes its final stop in Houston, where it remains on view through May 26. All of the following events associated with the exhibition take place in the Audrey Jones Beck Building, 5601 Main Street, unless otherwise noted. Learn more by visiting www.mfah.org/sargent or www.mfah.org/calendar.
Master Tours: John Singer Sargent: The Watercolors
Over three Mondays, when the Museum is closed to the general public, guests can take part in an exclusive series of in-depth tours led by Museum art historians who will share their expansive knowledge of the works on view in the exhibition:
Kaylin Weber, Assistant Curator, American Painting and Sculpture
Monday, May 5, at 4 p.m. and 6 p.m.
David Bomford, Conservation Director
Monday, May 12, at 4 p.m. and 6 p.m.
Dena Woodall, Associate Curator, Prints & Drawings
Monday, May 19, at 4 p.m. and 6 p.m.
Admission is $65 for the general public or $55 for MFAH Members, and includes an hour-long tour and a glass of champagne. The series can be purchased at a discount of $175 for the general public or $150 for MFAH Members. Availability is limited; advance reservations are required and are provided on a first-come, first-served basis. Please call 713.639.7771 or visit www.mfah.org/sargentmastertours for tickets.
Sip & See
MFAH Mixed Media
Friday, April 25, from 8 p.m. to midnight
Spring is in the air for this late-night party featuring drinks, dancing and high-energy music curated by DJ Sun, plus exclusive access to John Singer Sargent: The Watercolors. For more information and tickets, visit www.mfah.org/mixedmedia.
Happy Hour Thursdays
Thursdays in April, from 6 to 8 p.m.
Throughout April, MFAH Happy Hour Thursdays will spotlight John Singer Sargent: The Watercolors with American and heritage beer and wine. A live DJ will spin under the porte-cochère and Ladybird Food Truck stays parked nearby. General admission is waived every Thursday, courtesy of Shell.
Family-Friendly Programs
Little Art Adventures: "Water + Color"
Friday, April 25, from 10:30 a.m. to 11:30 a.m. MFAH Visitors Center, 5600 Fannin Street Little Art Adventures is designed for children ages 3 to 5 years old and their adult companions. The experience includes a storybook circle, creative shape and color play, making a simple art project and an activity sheet that families can use in the galleries together. Registration is free with general Museum admission.
Lectures
"Brush to Paper: Situating Sargent in the History of Watercolor"
Friday, May 23, at 1:30 p.m. and repeated on Saturday, May 24, at 4 p.m. Brown Auditorium, Caroline Wiess Law Building, 1001 Bissonnet Street Presented by Dena M. Woodall, Associate Curator of Prints and Drawings. Admission is $8 for the general public or $5 for MFAH Members.