Kandi Burruss releases "A Mothers Love" on DVD!
Executive Producers Kandi Burruss & Todd Tucker Presents: A Mothers Love!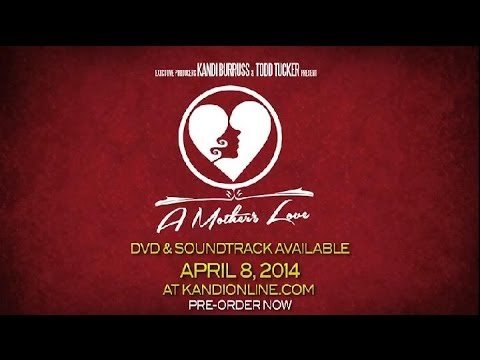 Coming from the success of the play at the Rialto Center for Arts, November 2013; the former Xscape member will release her hit musical "A Mother's Love" on DVD today! Burruss plays a member of a girl group who is trying to diffuse the brewing tension between her mother and new love, all while balancing her career and woes of the music industry. Sounds familiar? The reality TV star, who made it down the bumpy road to the altar and finally married fiancé Todd Tucker (April 4th), said "Momma Joyce" (Kandi's Mother) inspired the play.
"Though things are exaggerated, you will see moments of my life in the musical. Writing 'A Mother's Love' has been therapy for me in many ways. I've had to focus and not only co-write the script which is loosely about my life but have also written 20 songs for the play in a very short amount of time which has allowed me to unload a lot of emotions inside of me," said Kandi in a press release.
Joining the newlywed on the stage are industry legends Eddie Levert and Shirley Murdock. The play also features Q Parker (of R&B group 112), D Woods (Danity Kane), and Chandra Currelly. Additionally, Kandi's "Real Housewives of Atlanta" cast-mate, Porsha (Stewart) Williams, makes her acting debut in the musical production. The DVD also has a soundtrack that will also be released along with the DVD on kandieonline.com.
The cast sounds amazing! Totally hope this show goes on the road and comes to Houston, TX! In the meantime I'll be purchasing the DVD today!
The following is the track listing for the "A Mother's Love" soundtrack:
1."Legs, Hips, Body" – Kandi, Porsha Williams, D. Woods and Funkydineva
2."I'm Gonna Be Here" – Olrick Johnson, Sean Baker, and Zuri Craig
3."Second Thoughts (Interlude)" – Kandi
4."Shouldn't Have A Say" – Q. Parker
5."People In the Streets" – Shirley Murdock, Adrienne Reynolds and Chandra Currelley
6."Ain't Nobody Coming Between Us" – Kandi, Porsha Williams, and D. Woods
7."Forever Love" – Q. Parker and Kandi
8."You Cut Me Deep" – Kandi
9."I'm So Sweet (Interlude)" – Adrienne Reynolds
10."Forget You Pay Me" – Shirley Murdock, Adrienne Reynolds, and Chandra Currelley
11."Used To Bee's (Interlude)" – Kandi, Porsha Williams, D. Woods
12."Watch Over Me" – Porsha Williams
13."Let Them Love" – Chandra Currelley
14."Something's Got To Change" – Eddie Levert, Shirley Murdock, Brandin Jay, Q. Parker, and Adrienne Reynolds
15."Now & Then"- Eddie Levert and Shirley Murdock
16."Should Have Listen" – Kandi, Q. Parker, Shirley Murdock
17."A Mother's Love" – Shirley Murdock
18."We All Need Love" – Kandi, D. Woods, Zuri Craig, Q. Parker, Eddie Levert, Shirley Murdock, and Adrienne Reynolds
Watch the trailer for A Mothers Love: Here

To purchase the DVD and Soundtrack at kandionline.com