UNC fake class scandal and NCAA's response wind their way to Washington
4/8/2014, 8:32 p.m.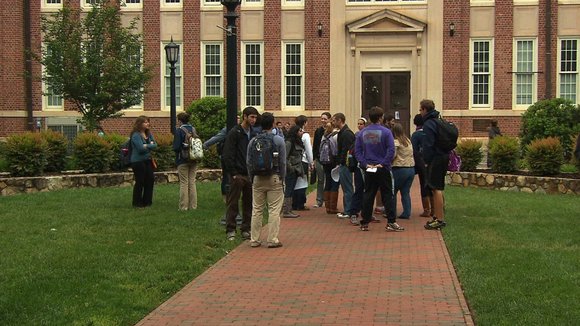 By Sara Ganim
CNN
(CNN) -- A U.S. congressman is questioning whether the NCAA failed to hold the University of North Carolina accountable during a 2012 academic fraud investigation and is demanding answers from NCAA brass.
If he doesn't get them, he'll call for congressional hearings and subpoena NCAA President Mark Emmert, Rep. Tony Cardenas told CNN.
The California Democrat is referring to a probe in which the National Collegiate Athletic Association investigated UNC's system of "paper classes" -- independent studies requiring little work and no attendance. Athletes were able to get easy "A"s without actually going to class.
The NCAA declined to sanction the university, saying the scandal was academic in nature, not athletic.
However, whistle-blower Mary Willingham has said that paper classes were openly discussed as a way to keep athletes eligible to play, and former football player Michael McAdoo said he was forced into majoring in African-American studies, the department at the heart of the paper-classes scandal.
"I think it's important to know if they are looking the other way," Cardenas said. "I think it's very suspicious."
Cardenas' call for an explanation could have implications for the NCAA, as it's involved in three court cases aiming to dissolve the long-standing amateur model and give players more rights -- and possibly salaries.
Meanwhile, the Student-Athletes Human Rights Project has filed a complaint with the U.S. Department of Education over UNC's paper classes. The student-athlete advocacy group, based in Durham, North Carolina, alleges the classes violated Title IX because the number of male students taking them was disproportionate, and Title VI because too many black students took them.
As more critics are emerging and speaking publicly about the way the NCAA handled the UNC case, the NCAA is standing by its assertion that athletes are paid with an education, are students first and should not receive salaries.
Critics say that model is flawed because many athletes do not get an education.
"Kids who are walking out of these schools cannot read. They are getting degrees that are worthless," said Tom McMillen, a former congressman and basketball player who now serves as secretary for the University System of Maryland Board of Regents, speaking on the issue of NCAA reform last week at the nonprofit Aspen Institute. "I think the chink in the armor of the NCAA is that they say you're going to get an education."
In a Monday phone interview with CNN, McMillen stated his opinion succinctly: "If these kids aren't getting an education, the whole thing's a sham."
Emmett Gill, a former NCAA adviser and current head of the Student-Athletes Human Rights Project, raised the same point in a letter to Emmert asking for a renewed investigation at UNC.
Gill said he believes the NCAA and UNC are ignoring the alleged academic fraud to protect the amateur model. If the NCAA were to admit that athletes are not getting an education, it would be devastating to the organization, Gill said.